A taco tour through Austin, Texas, with 4 great locations throughout the Austin taco scene!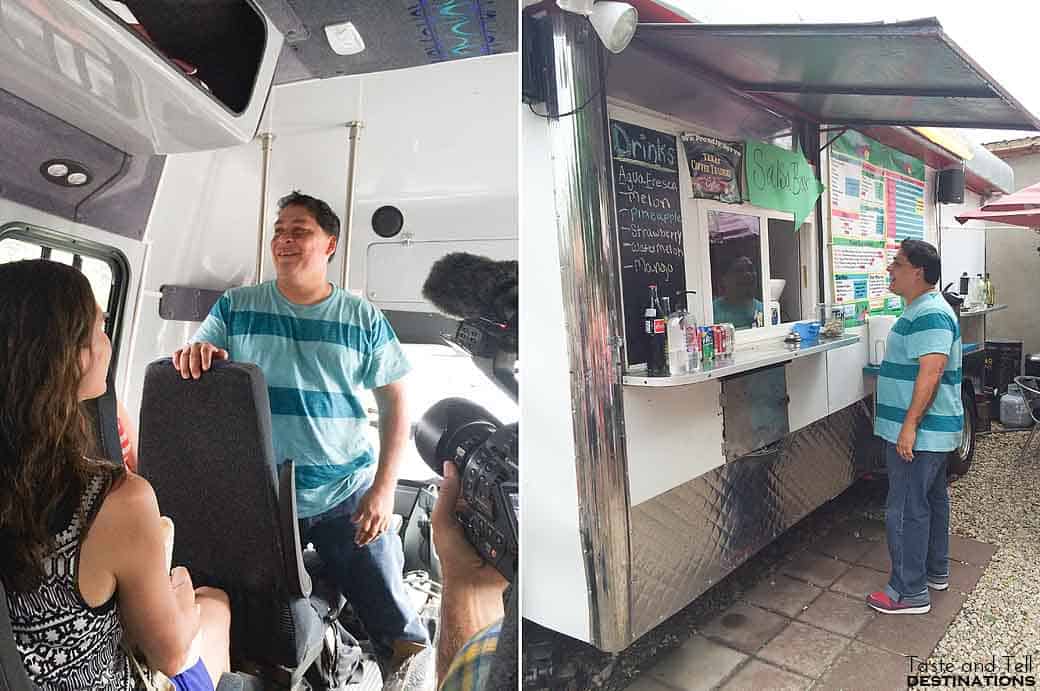 A couple of days ago, I gave you a brief rundown of our Austin Taco Tour, but I'm back again today to share more details with you all. If you are planning on visiting Austin, I've got 4 great taco locations that you need to hit up!!
We had an awesome tour guide – Mando Rayo, who is the author of Austin Breakfast Tacos. Not only was Mando super knowledgeable about the taco scene in Austin, but he was so nice and entertaining, as well. The perfect guide!!
We visited 4 different restaurants, each serving up different kinds of tacos. They were all pretty amazing, and while I thought I had my fill of tacos that day, I found myself thinking about some of those tacos the next day!!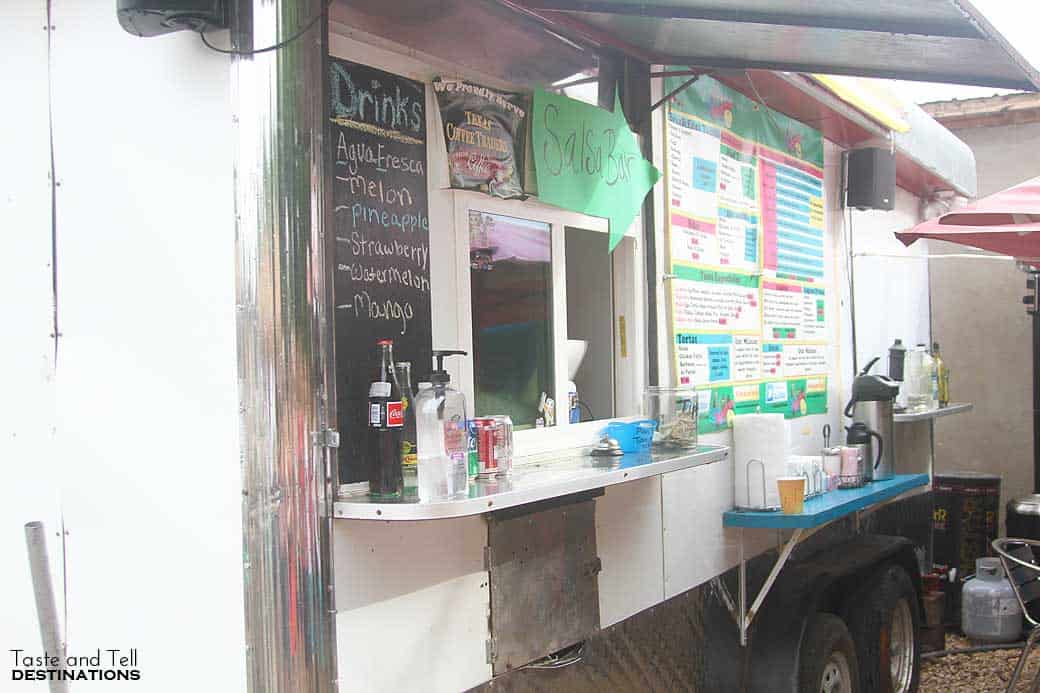 Stop #1 – Veracruz All Natural
This was the only food trailer we visited. (Most mobile "trailers" in Austin are in permanent locations, vs the food trucks here in Utah that change locations every day.) These were the freshest tacos we tried – everything is made fresh as you order. And every taco was topped with fresh avocado. (Can't go wrong with that!!) My favorite part, though, were probably the tortillas, which are also cooked there in the trailer to order. The tortillas were amazing, and even after a day of eating tacos, I probably would have been happy to get my hands on more of them. Several people tried their agua frescas, and loved them.
We sampled 3 tacos:
The Migas – eggs, cheese, pico de gallo, avocado and crunchy tortilla chips. I actually don't think I had ever had a true breakfast taco until this trip, but apparently, Austin is known for their breakfast tacos. I can definitely see why!
Fish – tilapia, mango pico, cabbage, avocado and cheese. The thing that I loved the most about this taco was that it was a whole piece of fish – not just pieces of flaked fish. I actually really loved this one and it was in the running for my favorite.
Chicken Fajita – fajita chicken, tomatoes, onions, cilantro and avocado. I think this one actually won out as my favorite. The chicken was so flavorful and tender, I couldn't stop picking at it. I knew we still had 3 places to go after this, but I pretty much ate the entire chicken taco.
Overall, I think that Veracruz All Natural was my favorite of the stops. Their tortillas definitely put them up there, but I loved the fresh toppings that really brought everything together.
Veracruz All Natural
1704 E Cesar Chavez
Austin, TX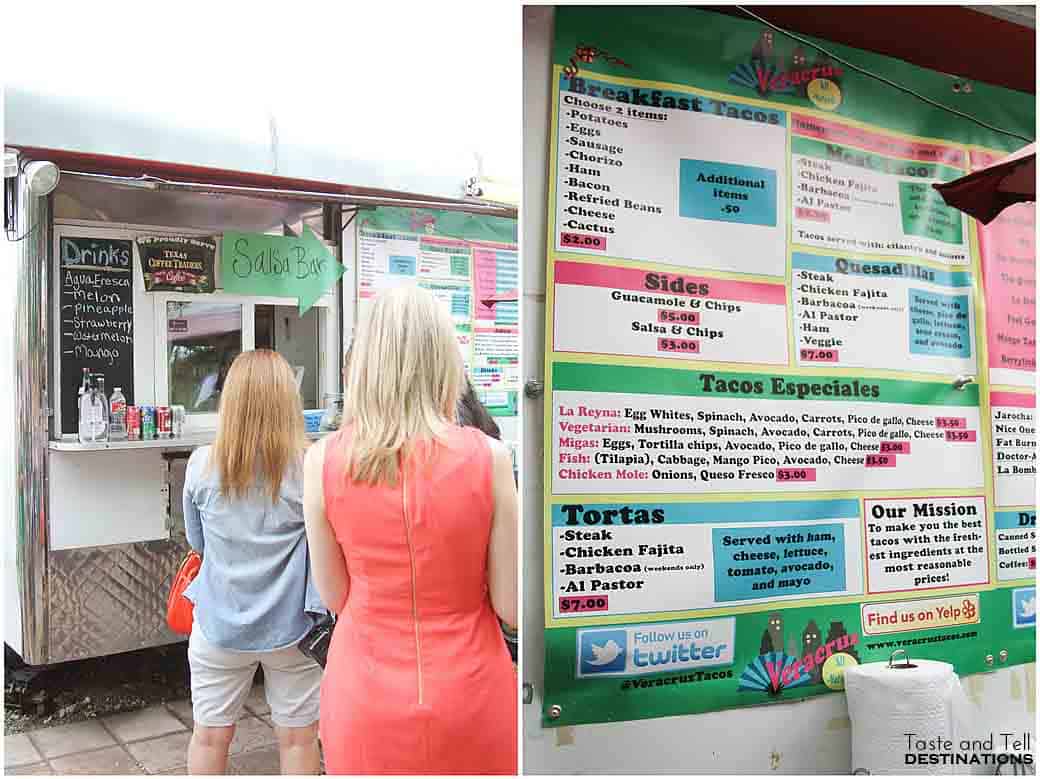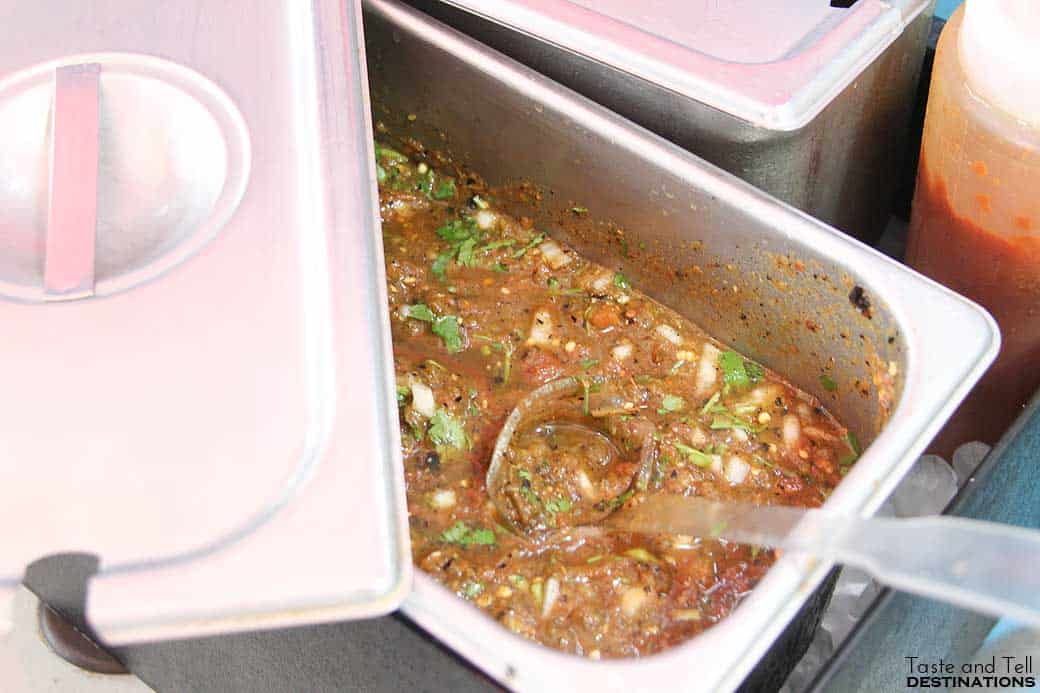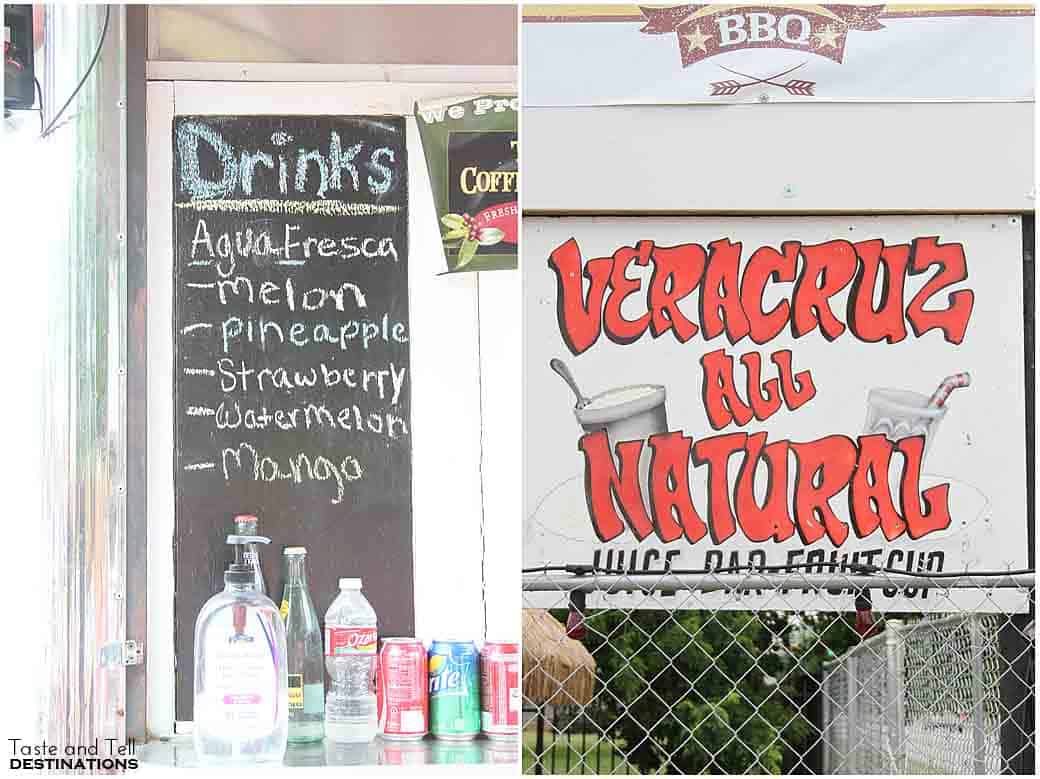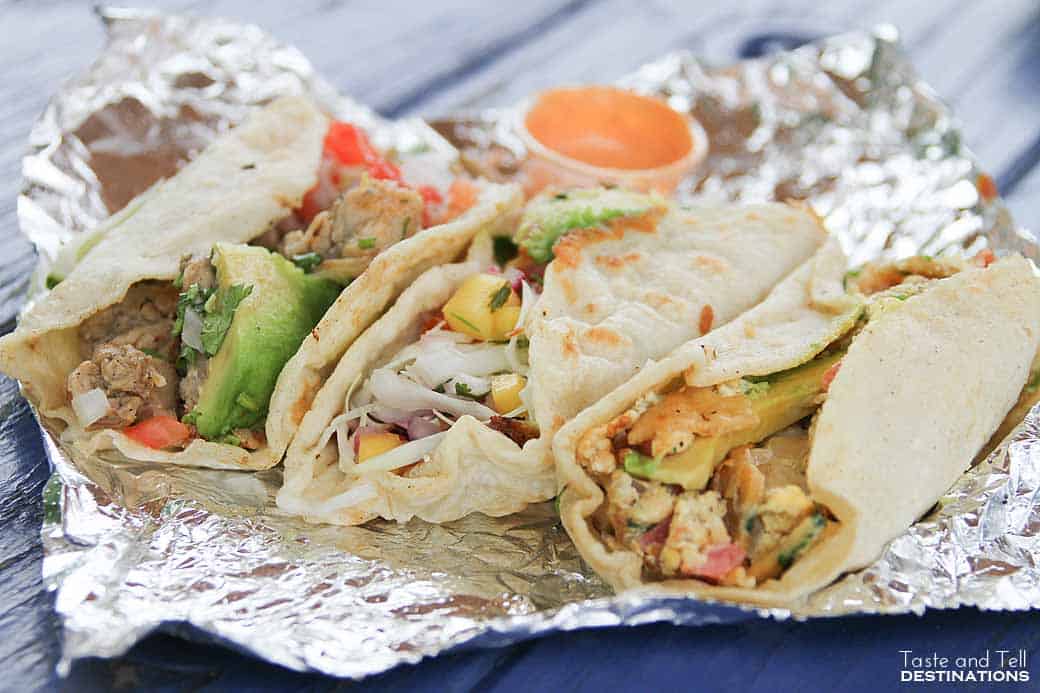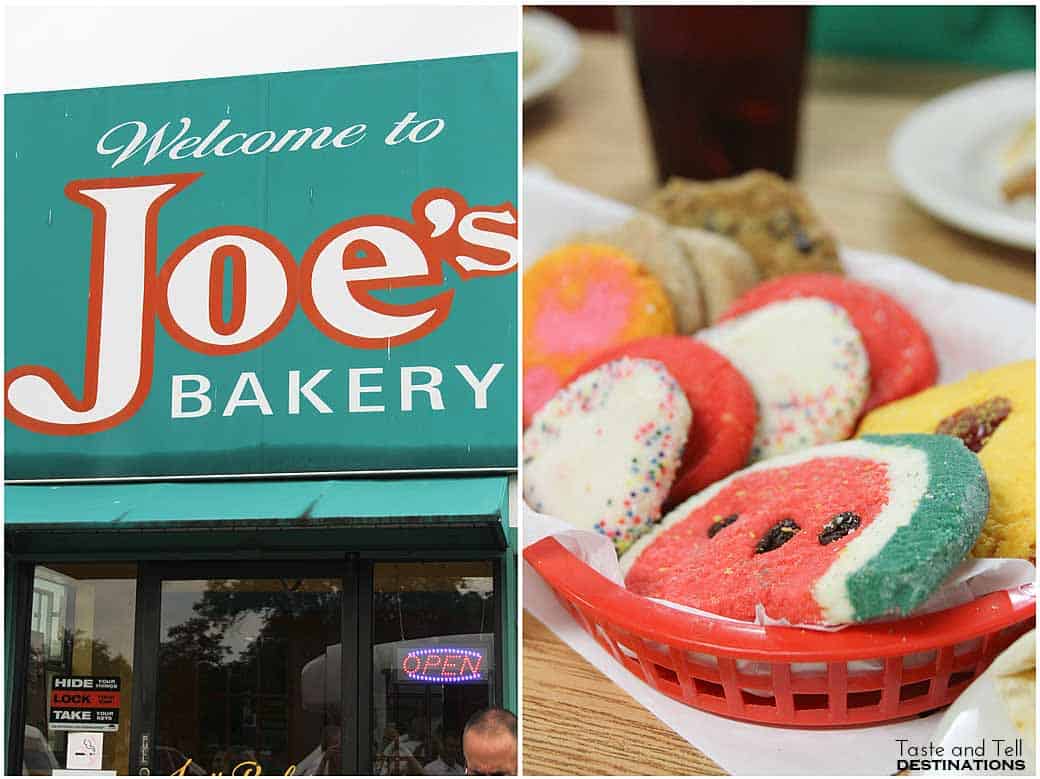 Stop #2 – Joe's Bakery
Joe's Bakery is a family-owned restaurant that has been serving up Tex-Mex to Austin for 50 years. Joe's serves up breakfast all day, over a dozen different kinds of tacos, as well as many other Mexican staples. And also plenty of Mexican cookies and pastries.
We sampled 3 different kinds of tacos at Joe's as well. Their tacos were a little bit heavier and heartier, but delicious as well!! We tried their migas taco, bean, egg and bacon taco, and the carne guisada. All of their tacos were served up on homemade flour tortillas. The stand out of the group was the bean, egg and bacon taco. Not only is this a combo that I've never had in a taco, but the bacon was so good. It looks like it has been deep fried, but they say that their secret is to flour the bacon before cooking it on a griddle. I'm definitely trying this!!
Joe's Bakery
2305 E 7th Street
Austin, TX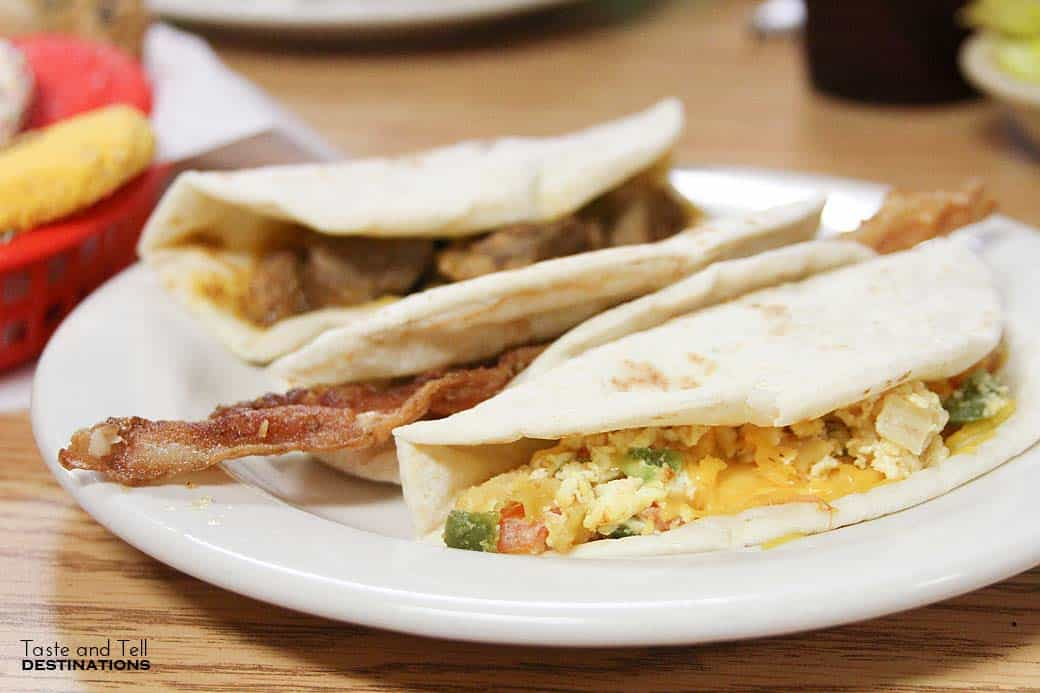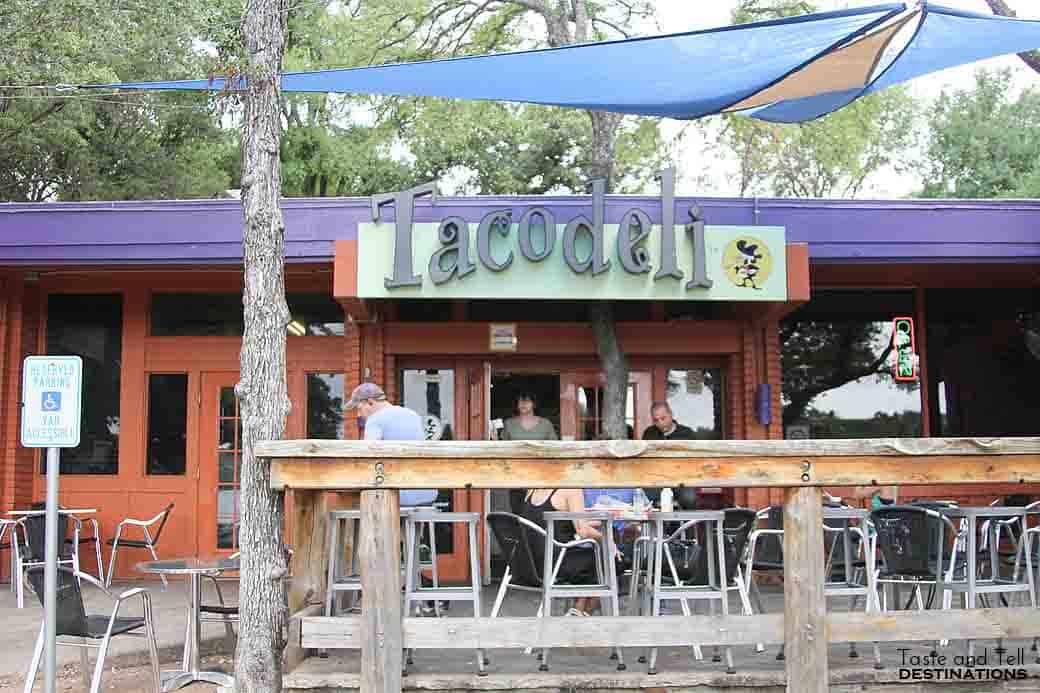 Stop #3 – Tacodeli
Tacodeli seems to have cult following in Austin. Many people swear by them as Austin's best tacos. So much, in fact, that today, Tacodeli has 4 locations, with more coming. They serve up tacos inspired by the Yucatan region of Mexico and use local produce and meats. They are only open for breakfast and lunch, and stay busy the entire time they are open.
We actually were shown 6 different tacos here – 3 of their vegetarian tacos, and 3 meat tacos. We tried the Frontero Fundito (I think it was the beef version – I don't remember!), the Mexico City Chicken, the Conquistador, The Heather, the Portobello Fundito and the Freakin Vegan. The standouts for me were probably the Conquistador, which had pork with a chile-pasilla sauce and then garnished with avocado, cilantro and onion, and the Heather, which was made with a big slice of grilled queso fresco, refried black beans, guacamole, lettuce and tomato. I really loved the idea of the grilled queso fresco!!
I also have to mention their queso, because it was pretty amazing. I'm pretty sure I ate more queso then I did of the tacos!
Tacodeli
1500 Spyglass Drive
Austin, TX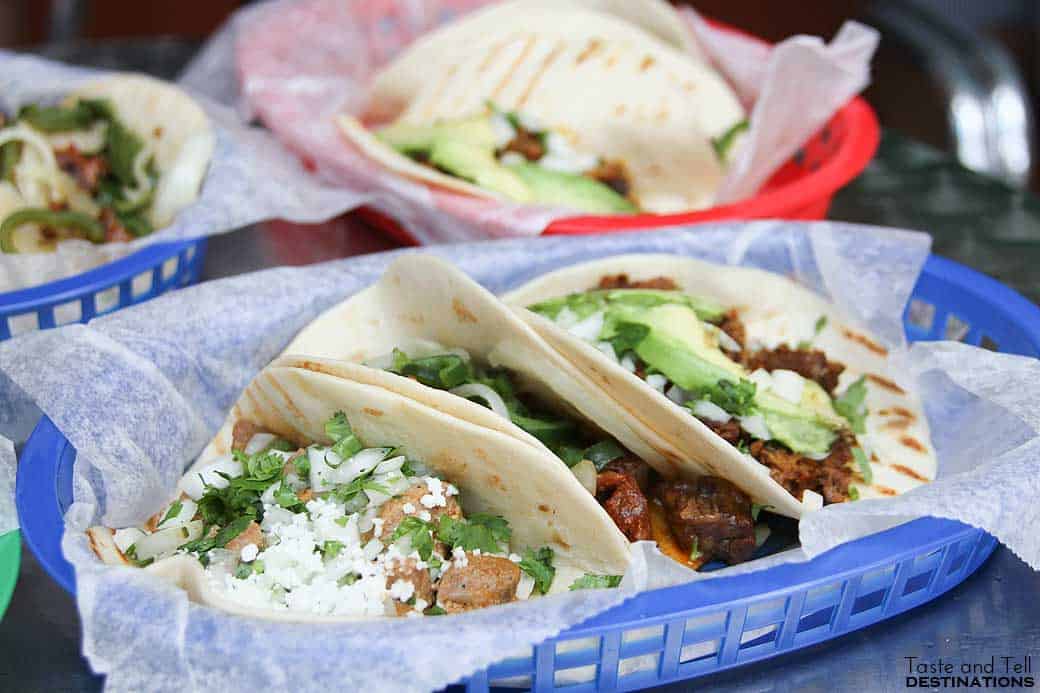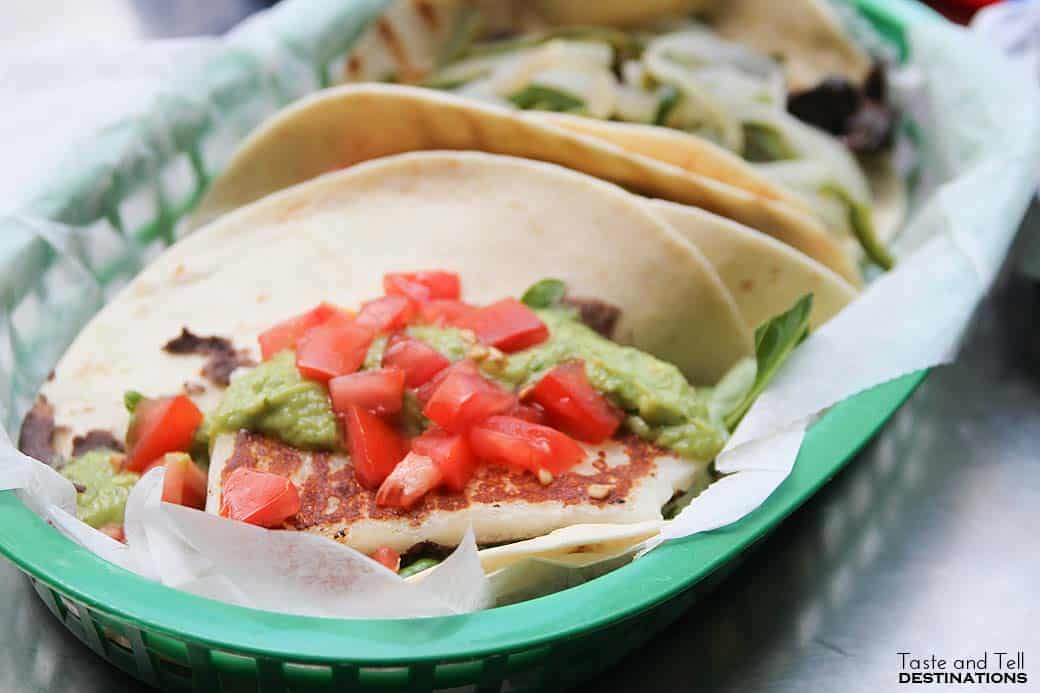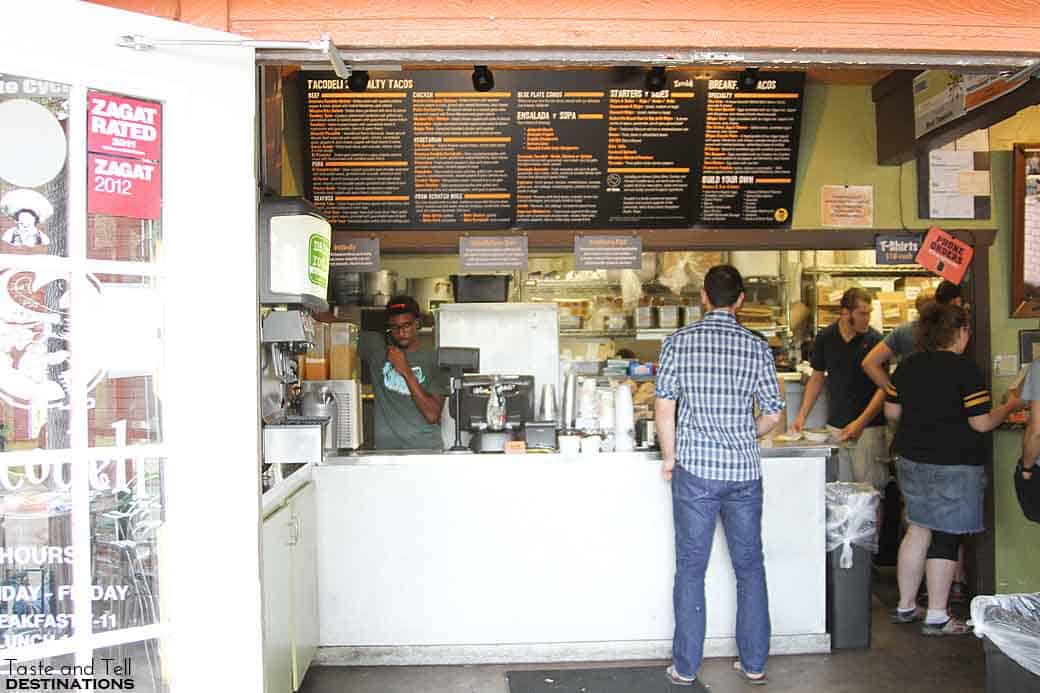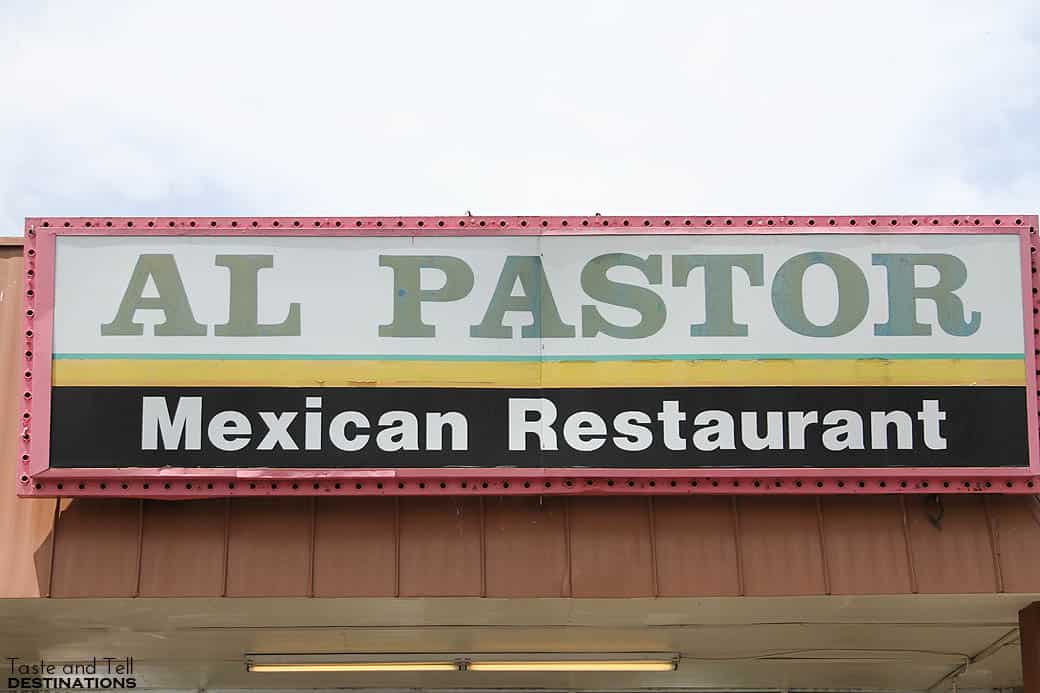 Stop #4 – Rosita's Al Pastor
I was hoping that we would stop at a more "hole in the wall" type restaurant, and when we drove up to this unassuming restaurant, nestled in a strip mall, I knew I was getting my wish. From the outside, it doesn't look like much, but I knew when we walked in that we were going to get a good taco.
Since we were already 12 tacos in, we only tried one taco – their al pastor taco. Even though we were at the end of our taco tour, and admittedly very full of tacos, I managed to eat every bite of this taco. The meat was tender and packed with flavor and the tortillas tasted fresh. Definitely the best al pastor taco that I've ever had. This was almost my favorite taco of the day, and maybe if we would have started here, it would have earned that status. But regardless, this is totally a restaurant and a taco I would return to if I found myself in Austin again.
Rosita's Al Pastor
1911 E Riverside Dr
Austin, TX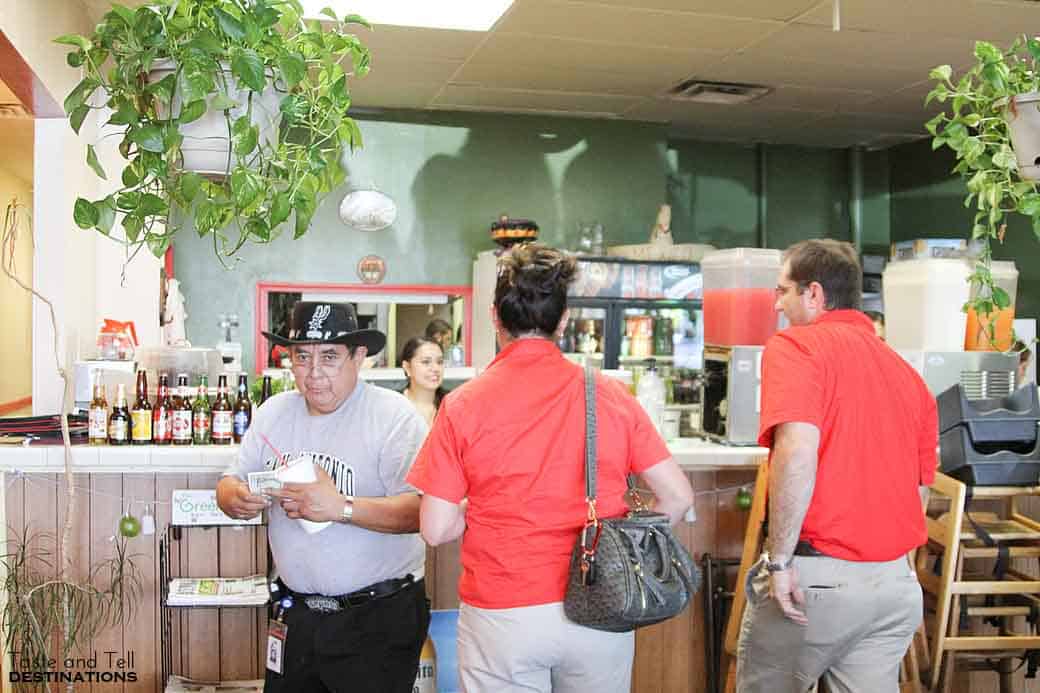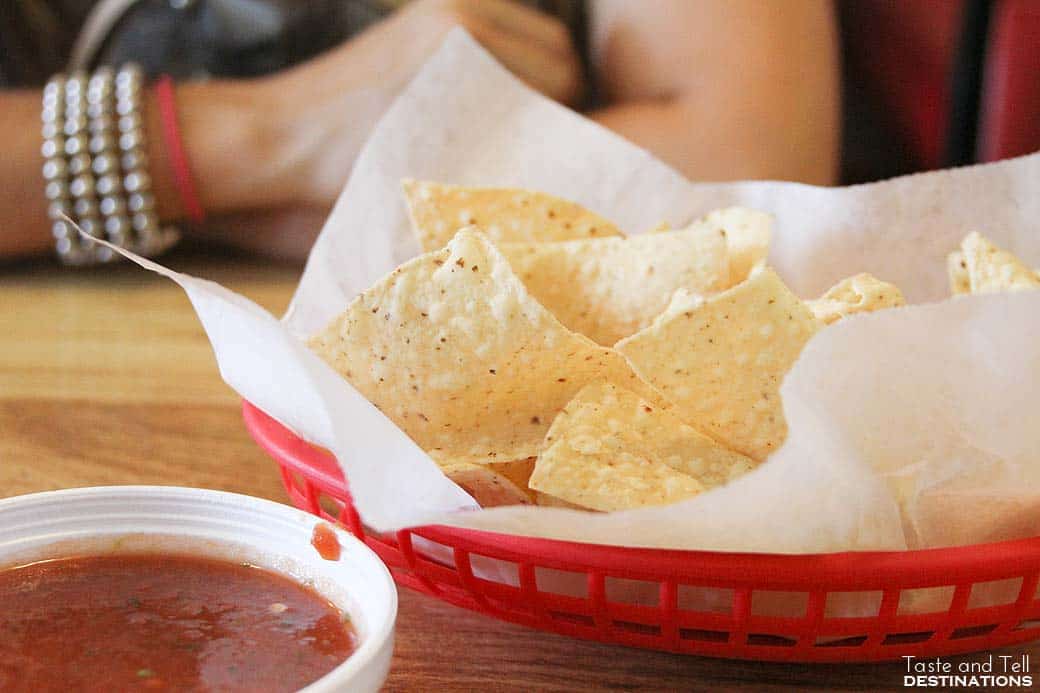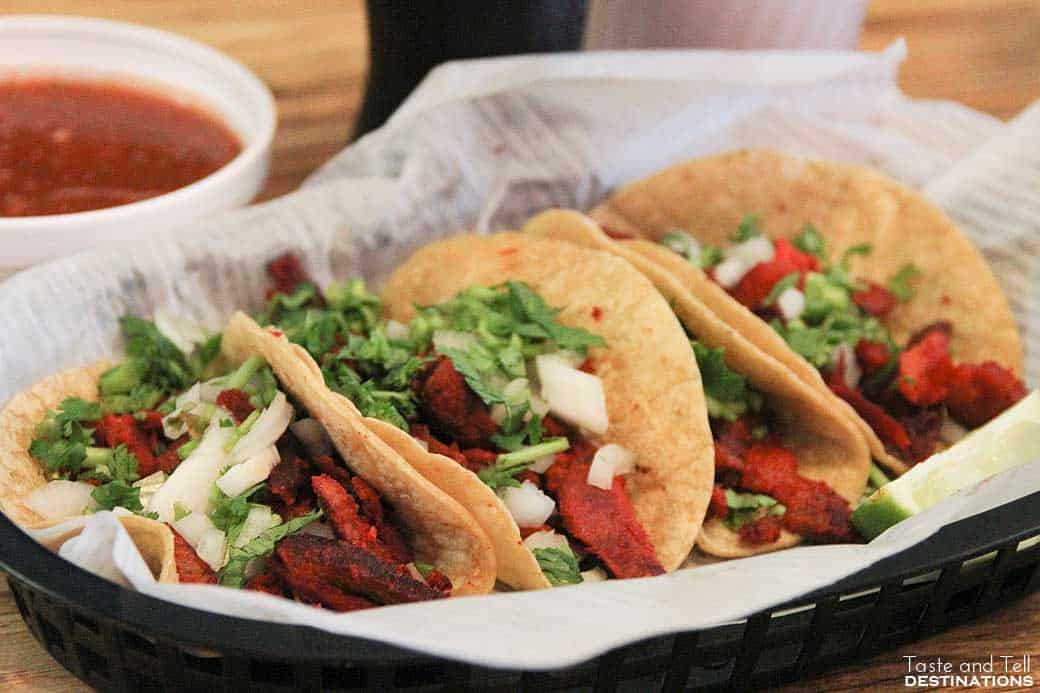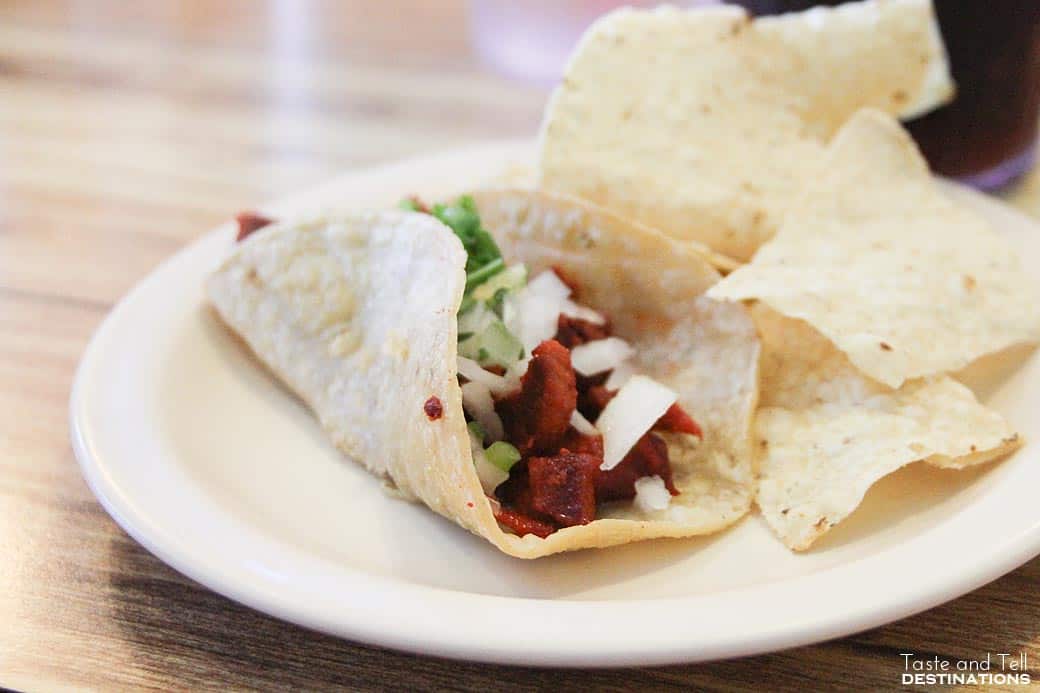 There you have it – 4 restaurants you must visit if you have a craving for tacos in Austin. It was fun to get to try so many tacos from some of Austin's best taco joints. Now I can't wait to go back!!