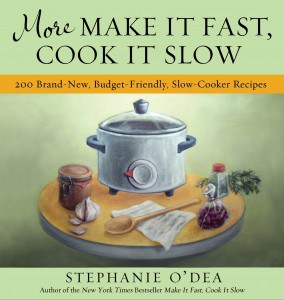 I started off this month freely admitting that I'm not always the biggest slow cooker fan. But guess what – this month's Cookbook of the Month – More Make it Fast, Cook it Slow by Stephanie O'Dea has totally restored my faith in the slow cooker!
Prep Times and Total Recipe Times Listed:no
Number of Photos: none
But let's face it – slow cooker food is really hard to photograph and make look appetizing. I'm not surprised to not see any photos!

Difficulty Level of Recipes: easy
It doesn't get much easier than most of these recipes. Seriously – most of the instructions are only 1 paragraph long. There are a lot of "dump all your ingredients into the slow cooker" kind of recipes – and those are usually my favorite ones!!
Availability of Ingredients: easy
I didn't see anything that you wouldn't be able to find at any grocery store.
Here's what I made: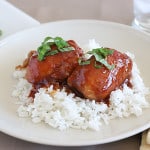 Honey Garlic Chicken – 9.5 out of 10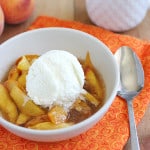 Scalloped Peaches – 9.25 out of 10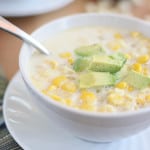 Corn and Crab Chowder – 8 out of 10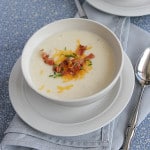 Baked Potato Soup – 8.75 out of 10
Overall Rating: 8.875 out of 10
One thing that I haven't mentioned about this cookbook is that it is "Budget Friendly". The chapters are divided by how much the meal costs to make – $7 and under, $10 and under, and $15 and under. And all of the recipes in the book are gluten-free!! Just 2 more reasons you want this book!!  If you are a slow cooker lover – or even if you'd like to have a few slow cooker recipes under your belt – this would be a great book to pick up.  Especially if you are looking for a way to perk up your slow cooker routine.
September's book (can you believe it's already September???) is another fun one – Poor Girl Gourmet by Amy McCoy. I'm super excited about this one because I'm always looking for recipes that are good, but aren't going to break the bank. I'm so excited to work through this one! I already have the first recipe made (post up tomorrow) and judging by that recipe, this is going to be a good one!