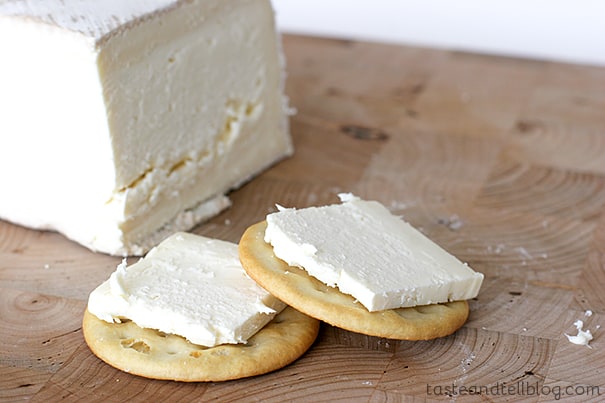 If there was one thing that I had to eat the rest of my life, I might very well choose cheese. I am a total cheese addict. I actually don't think a day goes by where I don't have cheese in one form or another. But the thing is – I am not a cheese expert by any means. I'm very "American" with my cheese – you know, usually only eating the kinds that come in blocks in the dairy section at the grocery store. I have been trying to branch out a bit since I started blogging, and fortunately, I have started seeing more imported cheeses at my local grocery store.
So when the folks at Ile de France contacted me and asked if I'd like to be part of a program where I get to sample an imported cheese each month, I jumped on it as fast as I could. This would be a great opportunity for me to become more familiar with more than just the block cheeses. They've asked me to be honest in my reviews, so each month I will show the cheese and give you my honest opinion.
The first cheese that came to me is called Saint Andre. It is a soft cheese who's texture reminded me of brie. I decided that with each cheese, I'm going to try it in a simple way where the cheese flavor shines – like on a cracker – and also try the cheese in some sort of recipe. On the company's website, they call the Saint Andre "heavenly" and I think that is the perfect word to describe it. The minute I tried this on my crackers, I knew it was a cheese I was going to fall in love with. It is really creamy and rich – yet I had a hard time not eating the whole wedge of cheese just on my crackers! Once I finally pulled myself away, I decided to make a panini for lunch with the cheese. The panini was a combination of eggplant, prosciutto, and the cheese and it was a perfect lunch. I was actually surprised how well the cheese melted and became nice and gooey – just how cheese should be on a panini! The cheese taste came through very well and was the star of the sandwich!
For more information on this cheese, click here, and for locations to find this cheese near you, click here.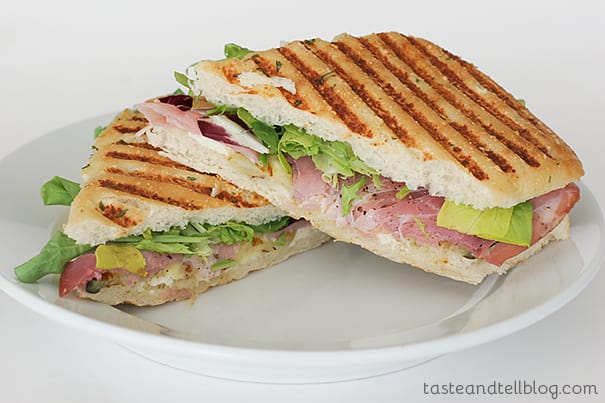 Grilled Eggplant, Prosciutto and Cheese Panini
inspired by 30-Minute Meals
makes one sandwich
1 slice of eggplant, about 1/4 inch thick
extra virgin olive oil
1 slice prosciutto
St. Andre cheese
mixed baby greens
1 foccacia roll
Brush both sides of the eggplant with olive oil. On a pre-heated panini press, grill the eggplant.
Assemble the cheese, eggplant, prosciutto and greens on the foccacia roll. Grill on the panini press until browned and the cheese has melted.