You would think that one of these days, I'll get tired of making mufins.  That I'll choose a favorite or two and stick with them.
Well, that's just not going to happen.
I love muffins.  Honestly, I'd try a new recipe every day and probably not get sick of making them.  While some people may think of muffins as boring, I think they are anything but.  So I hope you all don't get sick of them – because I'm never going to quit!
These muffins were another creation using the new Yoplait Lactose-Free yogurt line.  I love using yogurt in muffins – I think it gives them a great texture, and helps to keep them really moist.  If you are lactose free, this is a great breakfast choice that you can have without worry!
These muffins have a great apple flavor, and you can never go wrong with cinnamon.  And top anything with a crumb topping and I know I'll love it.  These muffins make a perfect breakfast, or a great pick-me-up snack later in the day.  If you are a muffin fanatic like me, this recipe needs to go on your "must-try" list!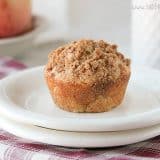 Apple Cinnamon Muffins with Crumb Topping
---
Prep Time: 15 minutes
Cook Time: 20 minutes
Total Time: 35 minutes
Yield: 12 muffins 1x
Description
These lactose-free muffins get lots of flavor from fresh apples and cinnamon, and stay nice and moist from lactose-free yogurt. The perfect on the go breakfast!
---
Scale
Ingredients
For the muffins:
2 cups all-purpose flour
1/2 cup granulated sugar
1/2 tablespoon baking powder
1/2 teaspoon salt
1 teaspoon cinnamon
1 6-ounce container Yoplait® Lactose Free Vanilla Yogurt
1 egg
1/4 cup vegetable oil
1 cup chopped apples
For the crumb topping:
2 tablespoons flour
2 tablespoons brown sugar
1/2 teaspoon cinnamon
1 tablespoon vegetable shortening
---
Instructions
Heat oven to 375°F. Spray 12 muffin cups with non-stick cooking spray. Set aside.
In a medium bowl, combine the flour, sugar, baking powder, salt and cinnamon. In a small bowl, combine the yogurt, egg and vegetable oil. Pour the wet ingredients into the dry ingredients, and stir just until combined. Fold in the apples.
In a small bowl, make the crumb topping. Combine the flour, brown sugar and cinnamon. Add the shortening, and using a fork or a pastry cutter, cut in the shortening until the mixture resembles coarse crumbs.
Divide the muffin mixture between the 12 muffin cups. Sprinkle with the crumb topping.
Bake muffins for 17-20 minutes, or until a toothpick inserted in the center comes out clean.
**Disclosure – this is a sponsored post, but all opinions are my own. **