These Apple Cider Donuts scream fall! Donuts made with a homemade apple sauce are dipped in an apple cider glaze and cinnamon sugar for a treat that is a must-have for fall.
Donut lovers! If you love these Apple Cider Donuts, make sure to check out all of my other donut recipes! Or for more apple favorites, check out these 15 Apple Recipes You'll Want to Make Every Fall.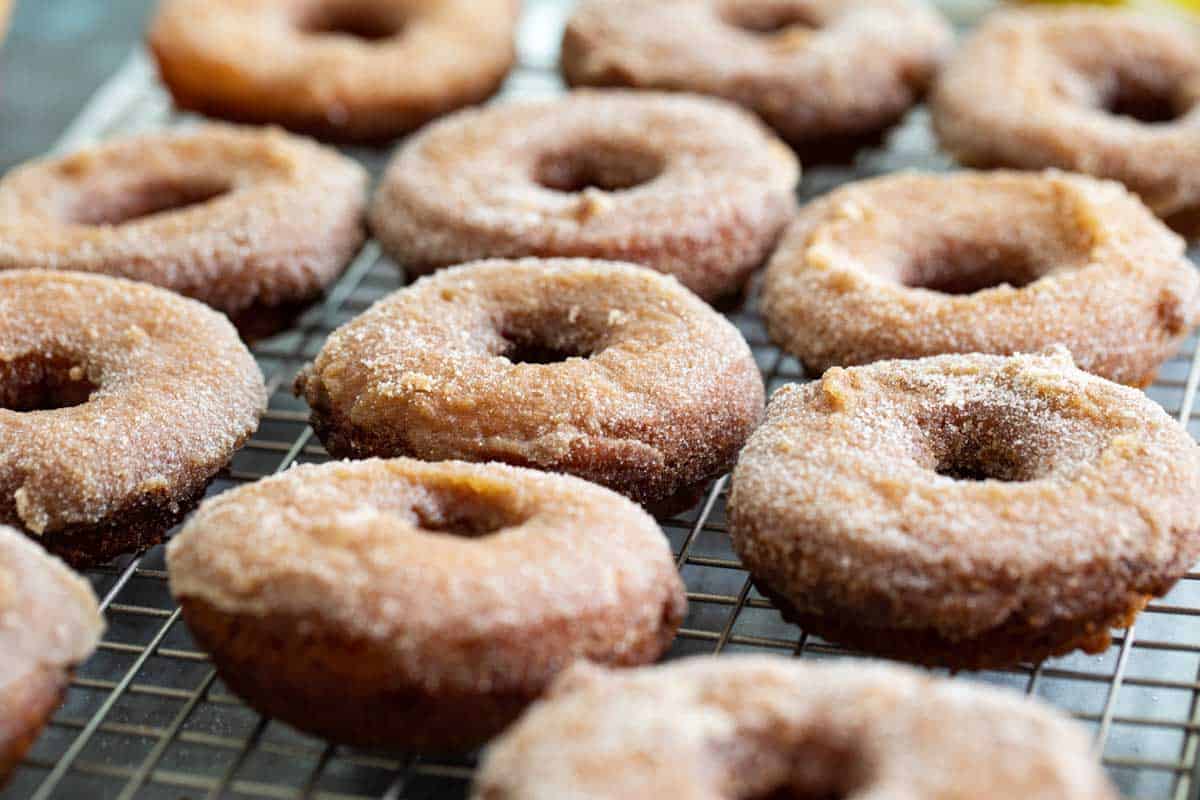 Now that it's officially fall, I can freely break out the fall-themed recipes, right? I know pumpkin takes center stage many times – I get it, I love pumpkin, too – but I think that apple belongs right up there alongside all those pumpkin recipes.
But I'm feeling fall in the air and I'm ready to jump right in. So bring on all of the apple!
Sweet from Food Network Magazine
Before we talk apples and donuts and fall, though, can we talk cookbooks? Because I have another cookbook that I have been so excited to share with you all!!
I used to subscribe to multiple food magazines. But then my time started to vanish when I started having kids, and unfortunately, most of the magazines were one of the things that went by the wayside. But I always loved Food Network Magazine, and they still entice me every time at the checkout stand at the grocery store!
Because I do really love that magazine, I was super excited when I saw that the editors of the Food Network Magazine were compiling all of the best sweet recipes from the magazine into a cookbook. It didn't take much to sell me on this one!
I love this book because it has a wide variety of recipes – both easy and some that are more complex. There is also a photo of each recipe, which is always a plus!
Plus – these donuts. The cookbook was worth it just for this Apple Cider Donut recipe.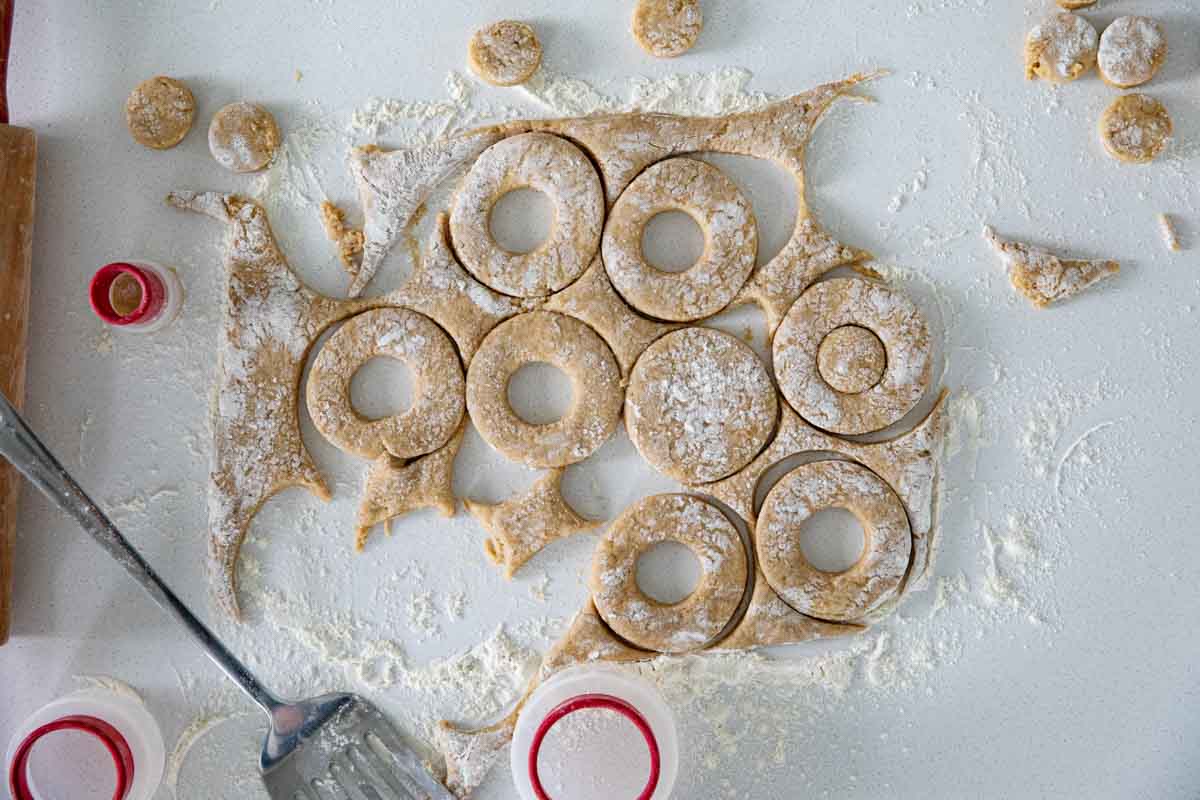 Apple Cider Donuts
There is nothing more fall than apple orchards and apple cider donuts. I'm always on the search for the perfect apple cider donut, and I finally found it. In my own kitchen.
Yep, these really are that good. Tender and sweet with the perfect amount of apple cider flavor.
And don't be intimidated by making your own donuts at home. This recipe doesn't use yeast and although they are a little time consuming, I actually think they are quite easy!
Do you Need a Deep Fryer to Make Donuts?
No! While a deep fryer may make it easier to keep temperatures where you need them, it is definitely not required. In fact, I have a deep fryer, but still prefer to fry donuts in either a cast iron skillet or in a Dutch oven. Just make sure that the pot you are using to fry the donuts in is a heavy pot that will help to keep the temperature of the oil up. I think cast iron is best for this.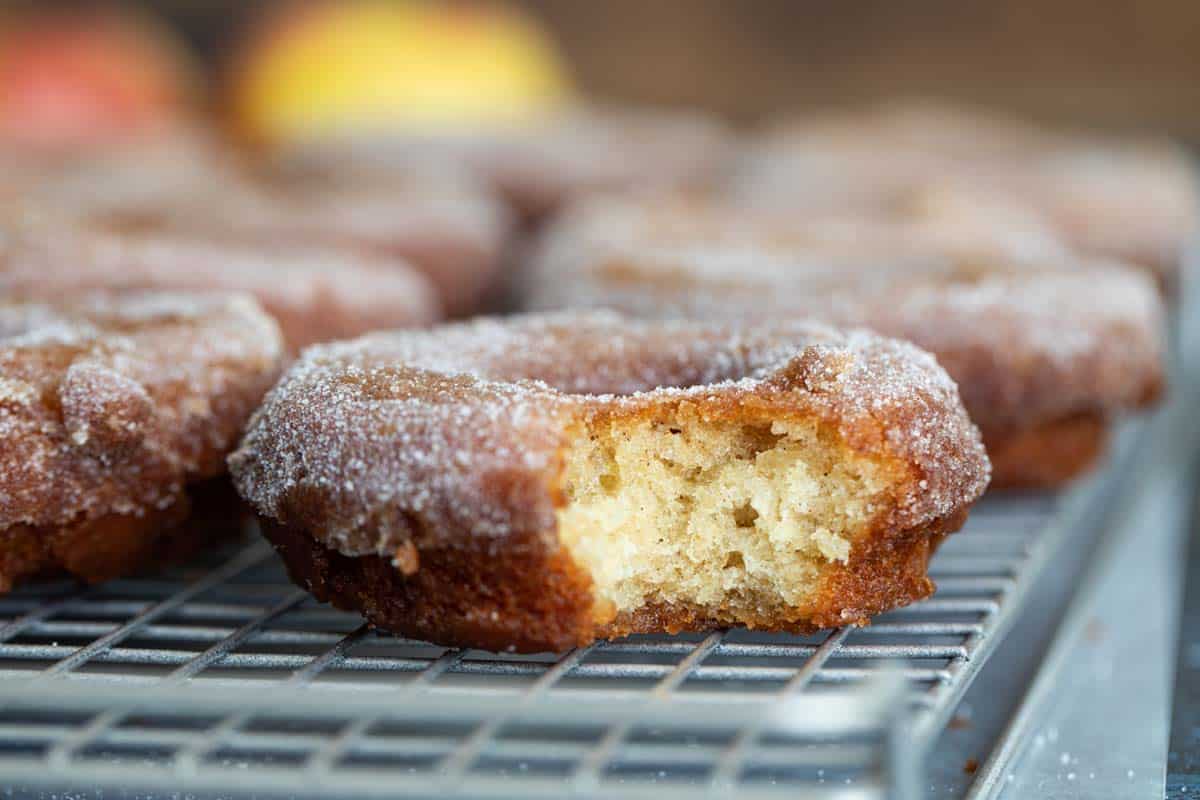 Tips for Making these Apple Cider Donuts
There are a few things to keep in mind when you are making this donut recipe:
The apples – I use Gala, because that is what I always have on hand. The original recipe called for Cortland or McIntosh. Really, I think any apple would work, but I'd stick with a sweeter apple over a sour apple.
These donuts get all of their apple flavor from reducing the cider. Both in the apples and the glaze. Don't skip this step unless you don't want your apple cider donuts to actually taste like apple cider.
This dough is sticky. You'll probably wonder if you did something wrong when you are mixing it up to begin with. But trust the recipe. Refrigerating the dough overnight will help with this. And when you go to roll out the dough, make sure your surface is floured. But if you add more flour to begin with to avoid the stickiness, the donuts will not be as tender.
If you use a cast iron skillet to fry the donuts, make sure you keep enough oil in it so that the donuts aren't touching the bottom of the pan.
You will just have enough of the glaze to coat all of the donuts and the donut holes. I was scraping the pan by the end, but did end up with enough.
These donuts are best when they are still warm, but they still remained good throughout the day. But like most donuts, the longer they sit, the more stale they get. If you do have leftovers, store them covered but not air tight.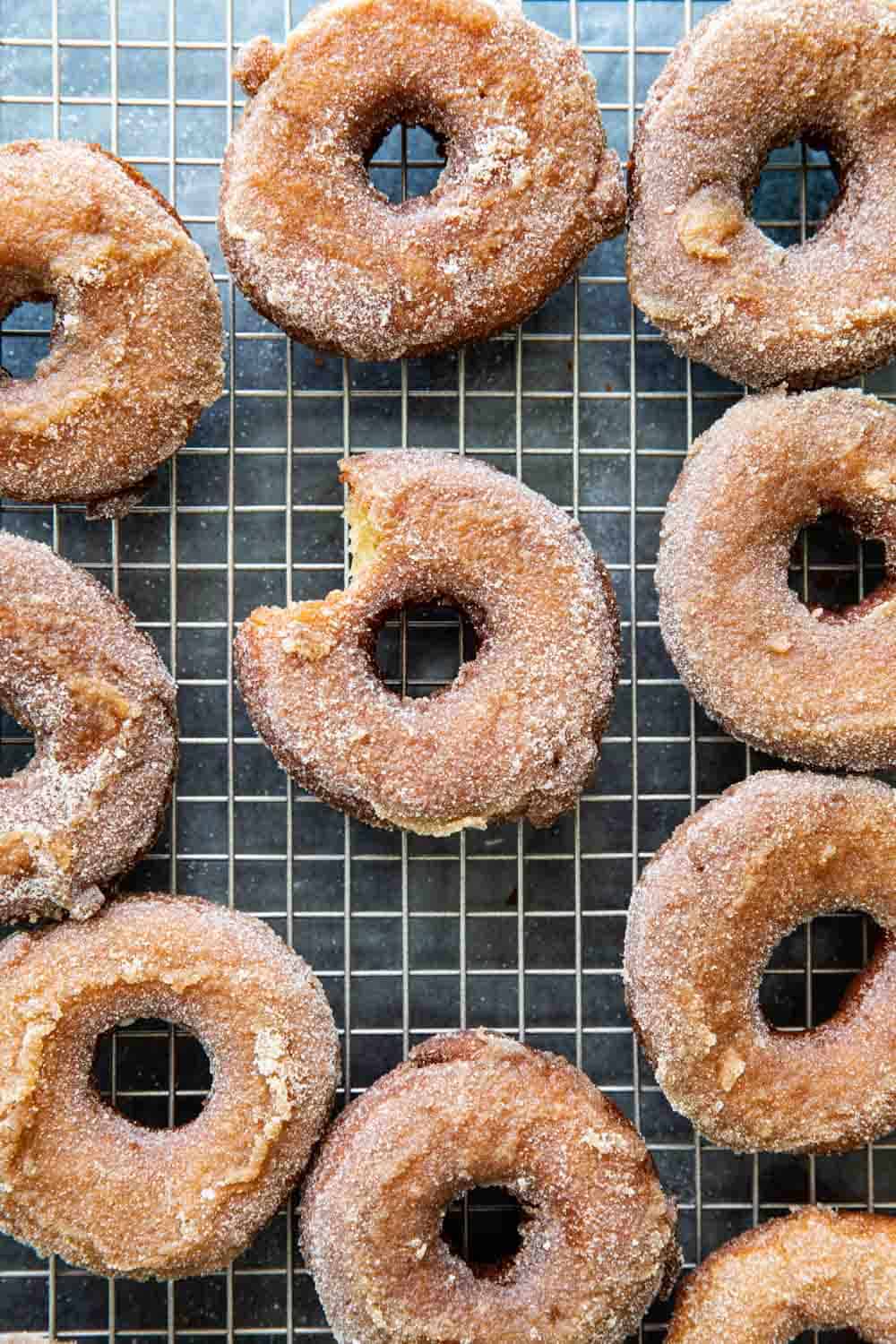 More Apple Recipes
These Apple Cinnamon Muffins are perfect for a fall morning – with bits of apple throughout and a cinnamon crumb topping.
I need this Caramel Apple Crisp at least once every fall!
This Apple Cinnamon Cake is perfect on its own, but even better with caramel sauce and cinnamon whipped cream!
If I had to choose one pie to eat the rest of my life, it would be this Sour Cream Apple Pie.
These Apple Pancakes with Caramel Apple Syrup win for the best fall breakfast!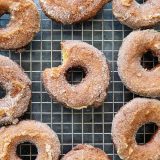 Apple Cider Doughnuts
---
Author:
Prep Time: 20 minutes
Cook Time: 40 minutes
Total Time: 1 hour + overnight
Yield: 12 doughnuts 1x
Category: Dessert
Method: Fry
Cuisine: American
Description
These Apple Cider Donuts scream fall! Donuts made with a homemade apple sauce are dipped in an apple cider glaze and cinnamon sugar for a treat that is a must-have for fall.
---
Scale
Ingredients
For the donuts:
2 medium red apples*
1 1/2 cups apple cider
3 1/2 cups all-purpose flour, plus more for dusting
4 teaspoons baking powder
1 1/2 teaspoons cinnamon
1 teaspoon salt
1/4 teaspoon baking soda
1/4 teaspoon ground nutmeg
2/3 cup granulated sugar
3 tablespoons vegetable shortening
1 large egg plus 1 large egg yolk
1/4 cup buttermilk
1 teaspoon vanilla
Vegetable oil (or other high heat neutral oil), for frying
For the glaze:
1 cup apple cider
1/2 cup powdered sugar
For the cinnamon sugar topping:
1/2 cup granulated sugar
1 teaspoon cinnamon
---
Instructions
Core the apples. Peel if desired (but not required). Coarsely chop and place in a saucepan. Add the 1 1/2 cups of apple cider and turn the heat on to medium heat. Cover the pan and cook until the apples start to soften, about 8-10 minutes.
Uncover the pan and continue to cook until the cider is reduced, about 15 minutes. Puree with an immersion blender or remove to a blender and puree until smooth. Return to the pan and the heat and continue to cook down until you have 1 cup of sauce. Cool slightly.
In a bowl, whisk together the flour, baking powder, cinnamon, salt, baking soda and nutmeg.
In another bowl, combine the sugar and the shortening and mix with a mixer on medium speed until the mixture looks sandy. Beat the egg and egg yolk into the sugar mixture.  Add the applesauce and mix, scraping the bowl as needed.
Add half of the flour mixture and mix until combined, then add the buttermilk and vanilla, mixing to combine. Add the remaining flour and mix just until combined. Do not overmix.
Place a piece of plastic wrap on a baking sheet. Pour the dough out onto the center of the plastic wrap. With floured or wet hands, pat the dough into a 7×11-inch rectangle. The dough will be sticky. Use the plastic wrap to wrap the dough, then transfer the dough on the baking sheet to the refrigerator to chill overnight.
When you are ready to make the donuts, heat 2 inches of oil in a deep pot or heavy, tall sided skillet. Heat the oil to 350ºF.
Line a baking sheet with paper towels and set aside.
In a small pot, start the glaze. Place the 1 cup of apple cider in the pot and cook over medium heat until it is reduced to about 1/4 cup. Whisk in the powdered sugar until smooth. Keep warm.
In a shallow bowl, mix together the 1/2 cup sugar and the 1 teaspoon of cinnamon.
Flour your counter or work surface, then turn the dough out onto the surface. The dough will still be sticky, so use extra flour as needed to keep it from sticking. Roll the dough until it is a 9×12-inch rectangle.
Use a 3-inch round cutter to cut 12 donuts. Use a 1-inch round cutter for the centers.
When the oil is hot, add 2-3 donuts to the hot oil at a time, frying until they are golden brown, then flipping to cook the second side. You will cook them about 2-3 minutes per side. Transfer the donuts to the paper towel lined baking sheet and continue with the remaining donuts, including the donut holes.
When the donuts are cool enough to handle, dip the tops into the glaze and then into the cinnamon sugar.
Serve the donuts warm. Store any leftover donuts lightly covered.
Recipe Notes:
Slightly adapted from Sweet
*The original recipe calls for Cortland or McIntosh apples. I usually use Gala because that is what we always have on hand.
Nutrition information provided as an estimate only. Various brands and products can change the counts. Any nutritional information should only be used as a general guideline.
We have determined the nutritional value of oil for frying based on a retention value of 10% of oil after cooking. The exact amount may vary depending on cook time and temperature, ingredient density, and the specific type of oil used.
Nutrition
Serving Size: 1 donut
Calories: 381
Sugar: 33 g
Sodium: 408 mg
Fat: 14 g
Saturated Fat: 2 g
Unsaturated Fat: 11 g
Trans Fat: 0 g
Carbohydrates: 60 g
Fiber: 2 g
Protein: 5 g
Cholesterol: 31 mg
Keywords: apple cider donuts