Photo updated April 2012

It's already day 7!! And like it's often said, I've saved the best for last. Well, the best in my husband's opinion, second best in mine!
I have listed the week of meals in order that they are listed in the magazine, but I didn't actually cook them in this order. But this was the last meal I made, mostly because I thought it's just – chicken. Sure I like a roasted chicken, but I wasn't really prepared for a WOW factor. But this meal, like some others, really stepped out and surprised me.
All of the 7 meals were easy and pretty quick to prepare, but this one was one of the easiest. I would highly recommend having a thermometer to test the doneness of the chicken – that way the chicken is still perfectly juicy and flavorful. The prosciutto adds the perfect amount of extra flavor. And the couscous and creamed spinach just complete the meal.
The only change I made to this recipe was with the creamed spinach. I often cook spinach as a side dish, so I knew that I didn't want to cook it in butter. What's better than spinach cooked in butter? Bacon grease of course! I keep a small mug of leftover bacon grease in my fridge just for occasions like this. It was a smart move, I have to say!
When I posted about the Chicken Adobo I made, I had a few people comment that they don't know how to cut a whole chicken. Well, truth be told, I don't either!! Most grocery stores will sell a whole chicken already cut up. My grocery store sells a butterflied chicken, so that's what I used for this, and all I had to do was cut it into 4 pieces. I was watching Good Eats this weekend, though, and Alton Brown said that a whole chicken has more flavor before it is cut, so I do want to learn how to cut it up myself to get the most flavor out of my chicken.
I'm really happy with this week from Rachael Ray. Some were my favorites that I will be making over and over again, and others were good, but not the best. The main thing I hope I accomplished this week, though, is opening up other's minds to her recipes. I know she gets a lot of flak, but hopefully many of you will be more willing to try her recipes now. And even though this week of Rachael Ray is over, you will definitely be seeing more of her recipes here on Taste and Tell!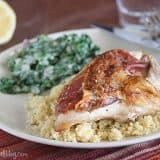 Prosciutto-Stuffed Chicken with Creamed Spinach
---
Prep Time: 15 minutes
Cook Time: 35 minutes
Total Time: 50 minutes
Yield: 4 servings 1x
Description
Easy as can be, this baked chicken is flavored with proscuitto and served with creamed spinach.
---
Scale
Ingredients
One 4-pound chicken, quartered
3 ounces thin sliced prosciutto
2 strips peel and juice of 1 lemon
2 tablespoons butter
salt and pepper
One 10-ounce box plain couscous
1 1/2 pounds baby spinach
1/2 red onion, finely chopped
1 tablespoon flour
2/3 cup heavy cream
---
Instructions
Position a rack in the upper third of the oven and preheat to 425°. On a rimmed baking sheet, arrange the chicken pieces skin side up. Stuff 1-2 prosciutto slices under the skin of each chicken piece. Sprinkle the lemon juice on top. Quarter 1 tablespoon butter and place one quarter on each chicken piece; season with salt and pepper. Roast until the juices run clear when a thigh is pierced, about 35 minutes.
Meanwhile, prepare the couscous according to package directions.
In a large skillet, bring 1/2 inch water to a boil. Add half of the spinach and wilt over medium-high heat for 1 minute. Add the remaining spinach and wilt for 1 minute more. Drain and squeeze dry. Wipe out the skillet.
In the same skillet, melt the remaining 1 tablespoon butter over medium heat. Add the onion and cook, stirring, until softened, about 5 minutes. Whisk in the flour and then the cream and bring to a boil. Stir in the lemon peel and spinach and remove from the heat. Season with salt and pepper. Just before serving, discard the lemon peel.
Fluff and mound the couscous onto plates. Top with the chicken and serve the spinach on the side.
———————–

Rachael Ray Week in Review
Day 1 – Reuben Pizza
Day 2 – Sweet and Sour Pork Rice Bowl
Day 3 – French Onion Bread Soup
Day 4 – Jamaican-Style Beef Kebabs
Day 5 – Garlicky Bean Enchiladas
Day 6 – Southern-Fried Tilapia Salad
Day 7 – Prosciutto-Stuffed Chicken with Creamed Spinach