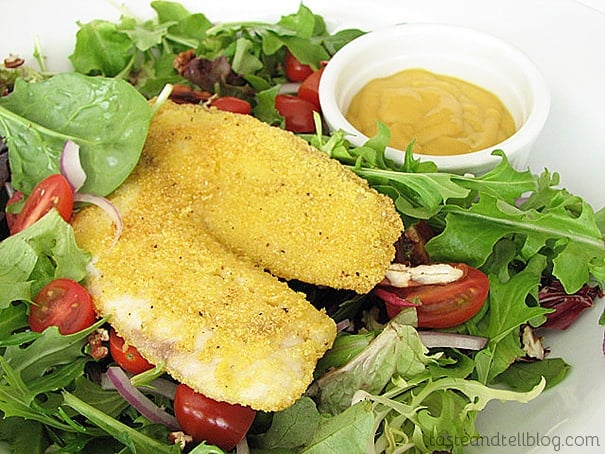 If I had to choose my least favorite of this week, this would be it. Not that it was bad. It was actually quite tasty. But it just wasn't anything special – nothing that I would rave about. The original recipe uses flounder, but of course, I couldn't find any flounder. So I used tilapia instead. I actually can't remember ever having tilapia before this salad, so I did discover something new.
This one is very simple. I don't think it took more than 15 minutes to throw together. While the fish was cooking, I prepared the greens and cut the tomatoes and onions. The dressing is nothing more than honey mustard mixed with some olive oil. I did probably add a bit more olive oil to the dressing, though, because it was still pretty thick after adding the amount in the recipe.
Not one that I would make again, but it definitely was simple enough for a weeknight!
Southern-Fried Tilapia Salad
from Every Day with Rachael Ray March 2008
Serves 4
1 cup cornmeal
1 teaspoon chili powder
salt and pepper
1 1/2 pounds tilapia fillets (can use flounder or sole as well)
1/2 cup extra virgin olive oil, plus more for frying
Two 10-ounce bags mixed greens
3/4 cup grape tomatoes, halved
1/2 cup pecans, toasted and coarsely chopped
1/4 small red onion, thinly sliced
1/4 cup honey mustard
In a shallow bowl, combine the cornmeal and chili powder; season with salt and pepper. Lightly coat each piece of fish with the mixture.
In a large nonstick skillet, heat 3 tablespoons olive oil over medium heat. Working in batches, add the fish and cook, turning once, until browned, 6 minutes total. Drain on paper towels.
Combine the greens, tomatoes, pecans and onion. In a jar with a lid, shake the honey mustard and remaining 5 tablespoons olive oil; pour over the salad and toss. Serve the fish on top of the salad.