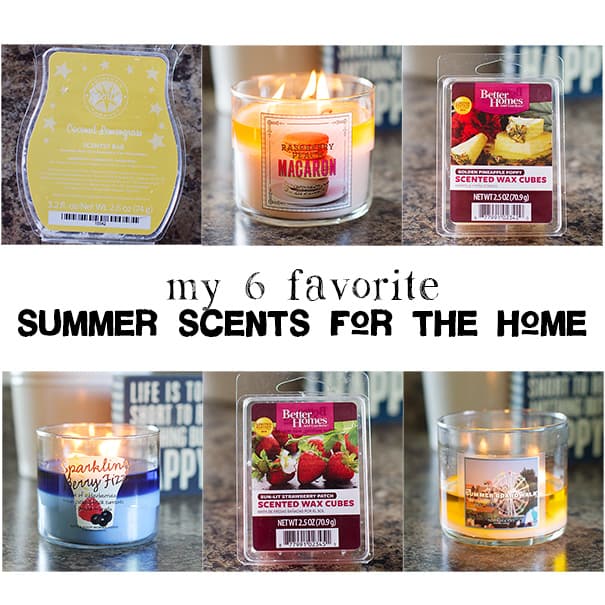 I think that everyone has their "thing". For some people it's shoes. Or make up. Mine? I'm obsessed with smells. Especially the way my house smells. Not even kidding – if I am home, there is either a melter in the tile melter, or a candle burning. From sun up to sun down. I don't know what it is – not only do I not like for my house to smell badly, but I think if there is a great scent burning, it just feels more homey.
Since I am an addict, I thought I'd share some of my favorite summer scents with you all. I typically love the fall/winter scents more, since they are stronger and warmer, but I've become addicted to some great "summer" scents this year that I'm going to be getting my fill of before the weather starts to turn. Here are 6 of my favorites – in no particular order!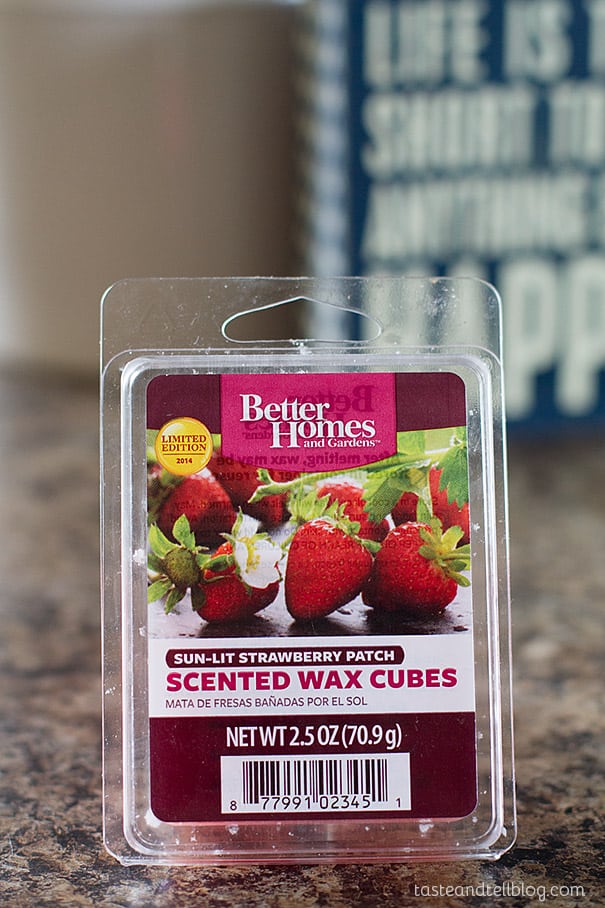 Better Homes and Gardens – Sun Lit Strawberry Patch
If you have a wax melter, I sure hope that you have discovered these wax tiles from Better Homes and Gardens. They are sold at Wal-Mart (I know – sorry!). But people – they are only $2. For 6 cubes. And I love them. I can literally burn most of them from morning to evening and the scent lasts. Sometimes even more than one day. My daughter is a strawberry addict, so she originally chose this one, but I fell in love quickly. It's fresh but not overpowering. And the smell is strong enough to fill my whole house, which is a must to get on my favorites list!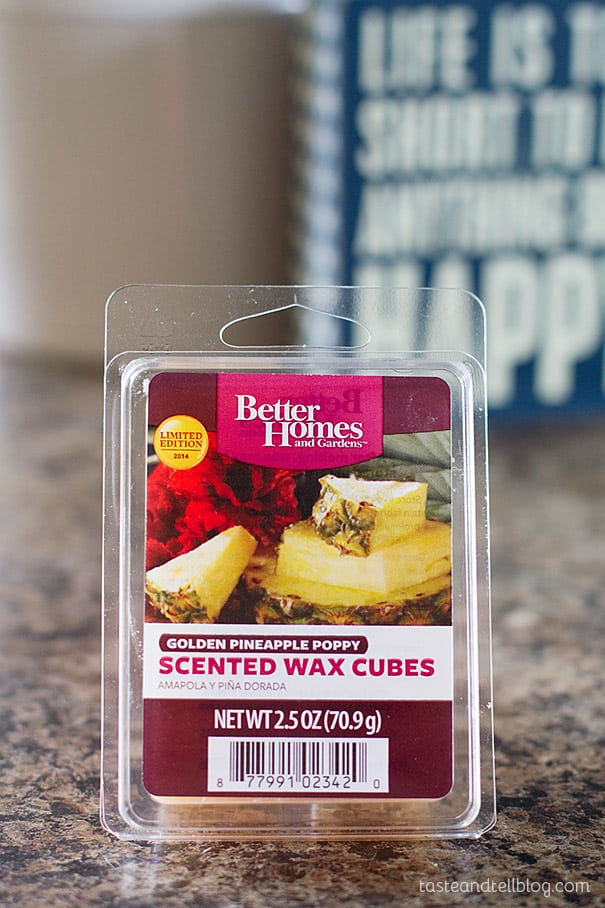 Better Homes and Gardens – Golden Pineapple Poppy
This is a fairly new discovery for me, but I am SO in love. It's a limited edition scent, so I may just have to stock up for if they are gone next summer! It's sweet and it's fresh. I like to melt this one when my house is clean – for some reason, it makes everything feel so much cleaner to me! (I know – I'm weird.)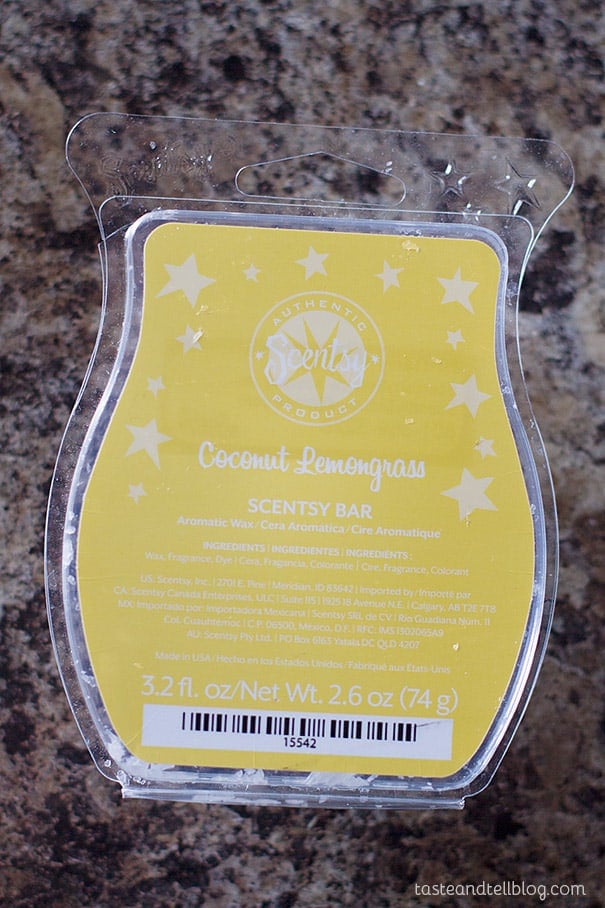 Scentsy – Coconut Lemongrass
I love the Scentsy scents. But I do have to say that I think the Better Homes and Gardens cubes tend to last longer and smell stronger. But that doesn't keep me away! This Coconut Lemongrass definitely smells like summer. I love the lemongrass twist – it makes this scent very clean. And the coconut is bold and helps you to imagine that you are on a tropical island. 🙂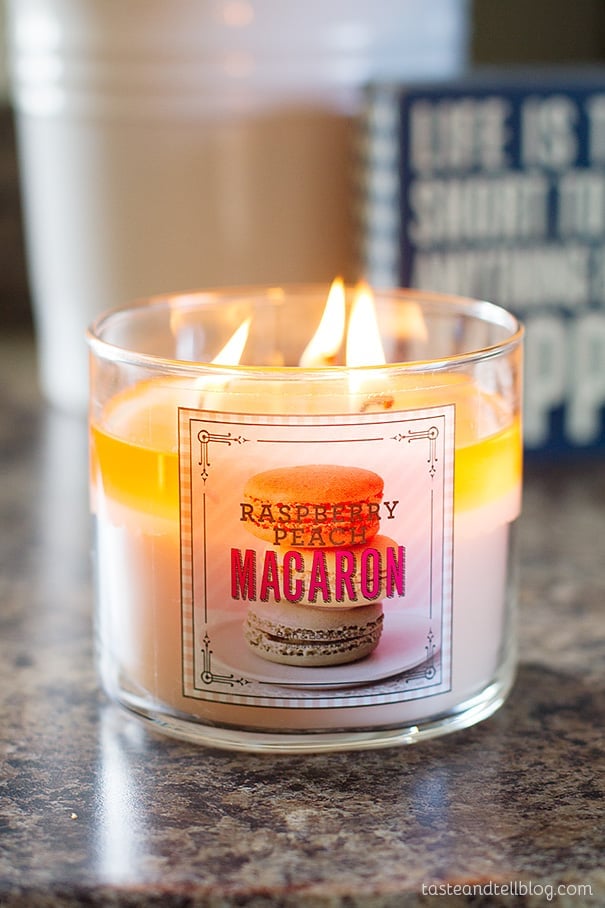 Bath and Body Works – Raspberry Peach Macaron
I was a 100% all the time wax melter person until probably about a year ago. I used to use candles years ago, but then decided that the wax melters were cleaner burning, not to mention it's easier to collect different scents because they are small and easy to trade out. But then I started buying the candles at Bath and Body Works, and I won't even admit to you how many I have right now. Addicted. Have I mentioned that? This Raspberry Peach Macaron is a long time favorite. It's super sweet, but it smells a-maz-ing. It's probably the candle that I've used the most over the past year. I do have to mention that I rarely see this one online, but I'm almost always able to find it in the stores.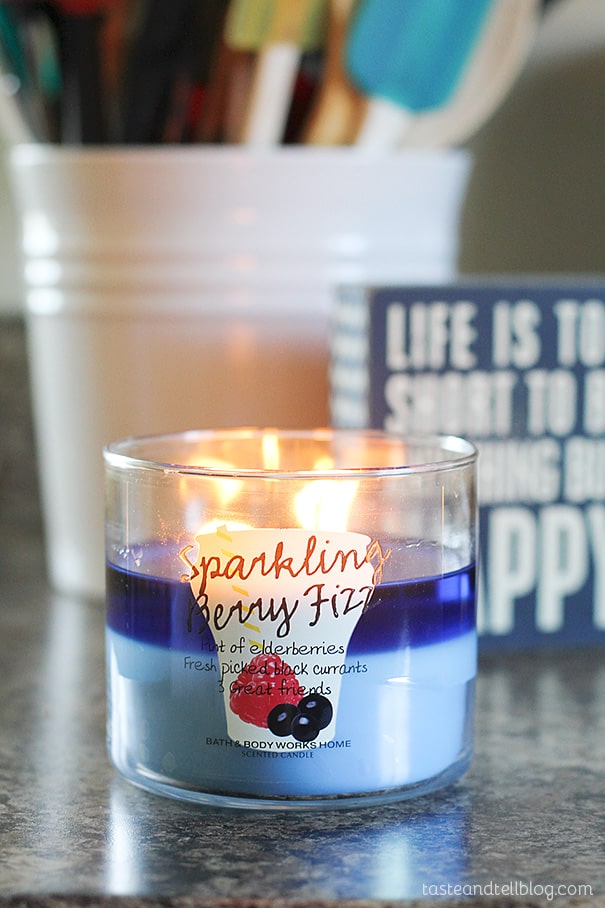 Bath and Body Works – Sparkling Berry Fizz
This is a new favorite (from the new scents that just came out) and I was actually surprised at how much I like it. I smelled it in the store the first day it came out, and I knew I wanted to try it, but it wasn't on sale. (I never buy these candles when they aren't on sale. I've gotten them as cheap as $5.60/each before!) But about a week later, I got an email, and sure enough, they went on sale. I ordered it, as well as 2 of the other new scents. This one surprised me with how quickly I fell in love with it. It almost reminded me of the scent the Blueberry Muffin Strawberry Shortcake Dolls had when I was a kid. (any other children of the 80s?) It quickly filled my whole house, and the smell was nice and strong.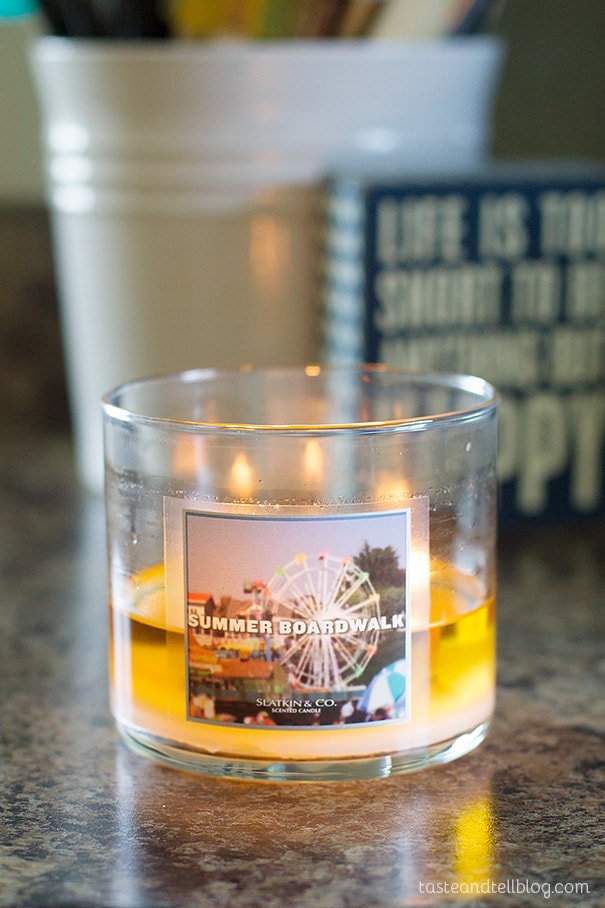 Bath and Body Works – Summer Boardwalk
If I had to choose one favorite summer scent, this would be it. Heavenly. It seriously smells like caramel corn. It's pretty strong, but the scent travels well throughout the house. And it really does smell like a county fair – minus all the stinky animals. I went and bought extras of this one just in case they don't sell it next summer – I liked it that much!!
So there you have it – my favorites scents this summer. I have already seen the fall scents lining the shelves, and while I'm excited to dive into them (they are my favorite, afterall), all be getting my fill of these for as long as possible!!