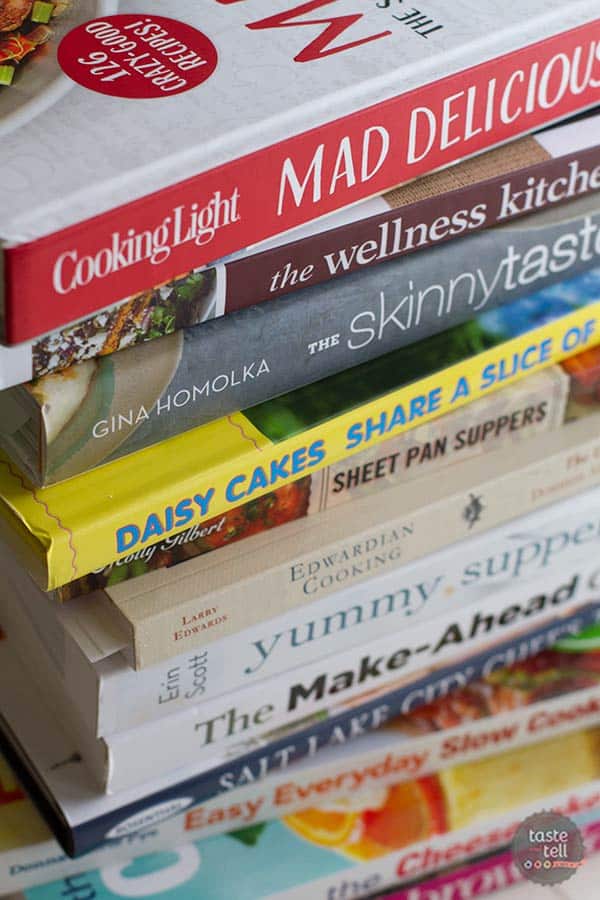 Happy New Year!!
Are you a goal maker? Do you take the first of the year to make New Year's Resolutions?
I love making goals. I'm not so great at New Year's Resolutions usually (I dream too big and get discouraged when I fall short…), but I do love setting goals.
As I was sitting and thinking over my goals for Taste and Tell in the new year, one thing kept coming to mind. I love cookbooks. Ok, you all know that already, but cookbooks are really what made me fall in love with cooking to start off with. In earlier blog days, I had my Cookbook of the Month project, where I would cook from a different cookbook every month and blog about it. And I loved doing that, and part of me has missed it.

So I decided that a new cookbook goal needed to happen this year. In comes #52Cookbooks. I've been doing a lot more cookbook reviews lately, and I have been having so much fun. So my goal for 2015 is to blog reviews for at least 52 cookbooks – one a week. Wow – that sounds like a lot when I actually put the words down! But I've already cooked from quite a few that I have to share with you (ahem.. 2 more this week…) I'm hoping to share my love of cookbooks with you all, to hopefully introduce you to a few new books or let you know about a few that you may have been thinking about. And of course, to share a bunch of great recipes along the way.
Here's to 2015!!