My 2014 Cookbook Gift Guide – a list of all of the cookbooks from 2014 that I think would make great gifts for those who love to cook!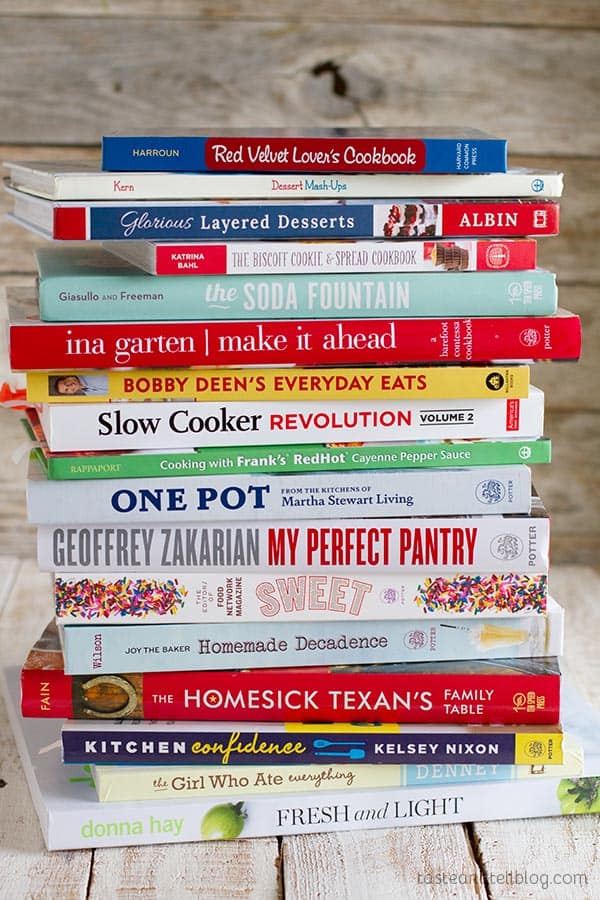 I have a little bit of a cookbook obsession. Some people collect baseball cards. Or shoes. Or stamps or beanie babies or coins. Me – it's cookbooks. I won't even admit to you how many I own.
I had been thinking about doing a 2014 cookbook gift guide for a little while now, because there have been so many great books that have come out this year. And as I thought back over the books that I've tried, I was having a really hard time narrowing down my favorites. I just had too much fun cooking from cookbooks this year.
So instead of choosing favorites, I decided to make a little gift guide of the books that I've reviewed and loved that were released this year. I think any one of these would make a great gift for anyone you know that loves to spend time in the kitchen. You can click through to the full review of any of these books, along with a recipe that I made from the book. Here they are – in alphabetical order!

**This list only contains a very small percentage of the cookbooks that came out this year. These are only books that I own and have personally cooked from, and I only talk about books that I have loved and would personally recommend.**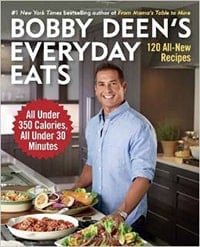 Bobby Deen's Everyday Eats by Bobby Deen
Read the Full Review
Buy it on Amazon
Who Needs It: The calorie conscious eater.
You would never guess that someone who grew up with Paula Deen as a mother would be selling a cookbook full of lower calorie recipes, but Bobby Deen does it. And he does it well. Filled with 120 recipes, all under 350 calories. And they all take under 30 minutes to make!
Cooking with Frank's Red Hot Cayenne Pepper Sauce: Delicious Recipes That Bring the Heat by Rachel Rappaport
Read the Full Review
Buy it on Amazon
Who Needs It: The Heat Seeker
I have always been a fan of Frank's Red Hot, and was excited to see a whole book dedicated to this spicy condiment. In this book, you get everything from appetizer that are perfect for game day to main dishes and even dessert. If you know someone who likes to bring the heat, this is the cookbook for them!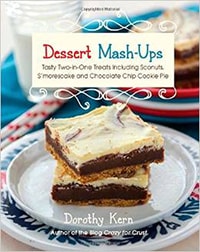 Dessert Mash-Ups – Tasty Two-in-One Treats Including Sconuts, S'morescake and Chocolate Chip Cookie Pie by Dorothy Kern
Read the Full Review
Buy it on Amazon
Who Needs It: The dessert lover
Dessert Mash-Ups is full of creative and drool-worthy desserts. Any dessert lover would have a hard time not falling in love with this book full of recipes to wow any crowd.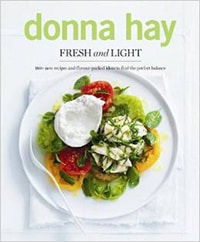 Fresh and Light: 180+ New Recipes and Flavour-Packed Ideas to Find the Perfect Balance by Donna Hay
Read the Full Review
Buy it on Amazon
Who Needs It: Those Who Love Gorgeous Food
If you know Donna Hay's cookbooks at all, you will know what to expect. This cookbook is beyond gorgeous – it is truly coffee table worthy. All of the recipes are made from fresh ingredients, and while it's not a "diet" book, all of the recipes are on the lighter side. But that definitely doesn't mean that they lack flavor!!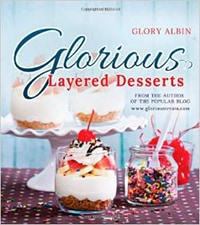 Glorious Layered Desserts by Glory Albin
Read the Full Review
Buy it on Amazon
Who Needs It: The Visual Eater
If you know someone who eats with their eyes first, this is the cookbook for them!! Beautiful desserts, all layered in jars and glasses. And not only are they stunning to look at, but the recipes are crazy delicious. This is the perfect book for someone who likes to put something a little special on the table for dessert.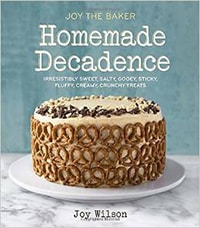 Homemade Decadence: Irresistibly Sweet, Salty, Gooey, Sticky, Fluffy, Creamy, Crunchy Treats by Joy Wilson
Read the Full Review
Buy it on Amazon
Who Needs It: Anyone who loves dessert with a twist
I love the creativity of this book, and I fall in love with it a little bit more every time I flip through the pages. And I should mention that although the desserts make up the majority of the book, the brunch chapter is one not to be missed.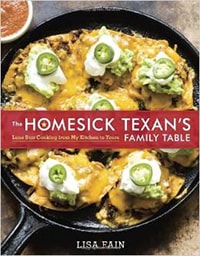 Homesick Texan's Family Table: Lone Star Cooking from My Kitchen to Yours by Lisa Fain
Read the Full Review
Buy it on Amazon
Who Needs It: The Tex-Mex Fanatic
If I had to chose my top cookbooks of the year, this one would easily be in the top 5. As a lover of Mexican and Tex-Mex food, the recipes in this book just call out to me. Anyone who loves to cook anything from south of the border will fall in love with the charm and the food from this cookbook.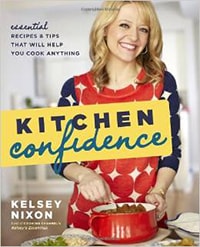 Kitchen Confidence: Essential Recipes & Tips That Will Help You Cook Anything by Kelsey Nixon
Read the Full Review
Buy it on Amazon
Who Needs It: Both the beginner cook and the veteran cook
I think this is a cookbook that belongs in every kitchen. Whether you are just learning to cook or if you are a seasoned veteran, you will find lots of recipes to fall in love with in this cookbook. You can feel Kelsey's love for cooking on every page, and it makes you want to get into the kitchen and get cooking.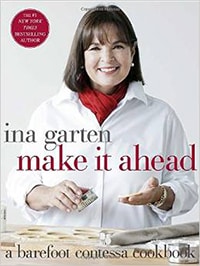 Make it Ahead by Ina Garten
Read the Full Review
Buy it on Amazon
Who Needs It: The Entertainer
This is the perfect book for those who love to entertain and who want to make things easier by doing most of the work beforehand. The recipes are all in true Barefoot Contessa style and there is a wide variety of recipes – you can plan a whole menu straight from this book.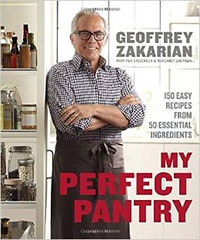 My Perfect Pantry: 150 Easy Recipes from 50 Essential Ingrdients by Geoffrey Zakarian
Read the Full Review
Buy it on Amazon
Who Needs It: Anyone who want to learn the versatility of different ingredients
I think my favorite thing about this cookbook (besides the recipes) is that you can get to know one ingredient and its versatility. You can take popcorn and learn 3 completely different ways to use it. I think it's a great way to really get to know the ingredients we are using, and to see how creative you can get with those ingredients.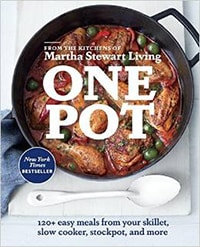 One Pot: 120+ Easy Meals From Your Skillet, Slow Cooker, Stockpot and More by The Kitchens of Martha Stewart Living
Read the Full Review
Buy it on Amazon
Who Needs It: The Cook Who Likes to Keep it Simple
Oftentimes, when I'm planning my menu for the week, I will search for recipes that aren't too complicated and won't use every dish in my kitchen. This cookbook is perfect for people who like to keep it simple and keep the messes to a minimum, but still produce delicious food.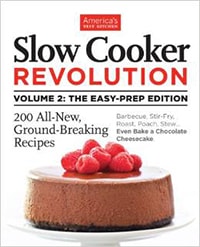 Slow Cooker Revolution Volume 2: The Easy Prep Edition by America's Test Kitchen
Read the Full Review
Buy it on Amazon
Who Needs It: The Busy Parent
So many times, when it comes to the slow cooker, it seems like people are looking for those dump and cook recipes. This cookbook is the answer for anyone who wants to get dinner in the slow cooker without a lot of fuss. All of the recipes call for 15 minutes of prep time or less, so it's great for people who don't have a lot of time for the prep work.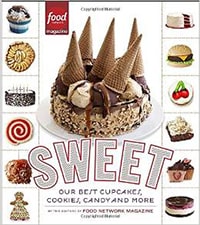 Sweet: Our Best Cupcakes, Cookies, Candy and More by the editors of Food Network Magazine
Read the Full Review
Buy it on Amazon
Who Needs It: Anyone with a sweet tooth
Craving something sweet? This book has you covered!! This book is chock full of dessert recipes – you are covered with everything from simple to complex. My son has pulled this book off of the bookshelf to look through the plentiful pictures dozens of times and chooses a different favorite every time. You will not be at a loss at what to make for dessert with this cookbook!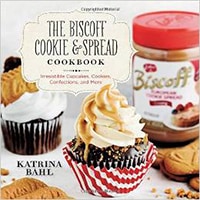 The Biscoff Cookie and Spread Cookbook: Irresistable Cupcakes, Cookies, Confections and More by Katrina Bahl
Read the Full Review
Buy it on Amazon
Who Needs It: The Biscoff Lover and Nut Avoider
I was just going to say that this is a great cookbook for those looking for alternatives to peanut butter desserts, but anyone will love these desserts. The popularity of Biscoff is on the rise, and this cookbook will have you buying it in bulk.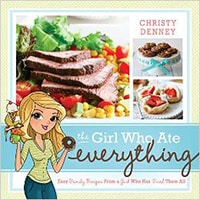 The Girl Who Ate Everything: Easy Family Recipes from a Girl Who Has Tried Them All by Christy Denney
Read the Full Review
Buy it on Amazon
Who Needs It: Everyone!
I can confidently say that I will slowly make my way through this entire cookbook. All of the recipes are approachable and filled with flavor. Every recipe I have made from this book has been a complete winner and I can't find a single recipe that I don't want to make. Definitely a favorite for the year!
The Soda Fountain: Floats, Sundaes, Egg Creams and More – Flavors and Traditions on an American Original by Gia Giasullo and Peter Freeman
Read the Full Review
Buy it on Amazon
Who Needs It: The Lover of Classics with a Twist
There is so much nostalgia associated with the old time soda fountain, and this cookbook brings that soda fountain alive in your kitchen. Not only is it filled with creative and delicious recipes, but there is also some great history in the book as well.
And ok – I have to include one more that I didn't review on the blog, but that I 100% recommend – MINE!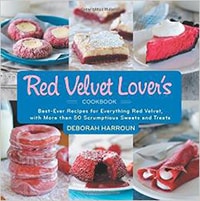 Red Velvet Lover's Cookbook: Best Ever Versions for Everything Red Velvet, with more than 50 Scrumptious Sweets and Treats
Who Needs It: The red velvet lover
I think this would make the perfect holiday gift – or gift for yourself before Christmas so that you can bake up lots of red velvet treats for Christmas!! If you love red velvet, this is a cookbook you can't miss. Hey – it has even converted some non-red velvet lovers over to the red side!!
What are some of your favorite cookbooks from 2014?
**This post contains affiliate links. If you purchase an item from Amazon from the link Taste and Tell receives a small commission. Thank you for supporting Taste and Tell through your purchases!**