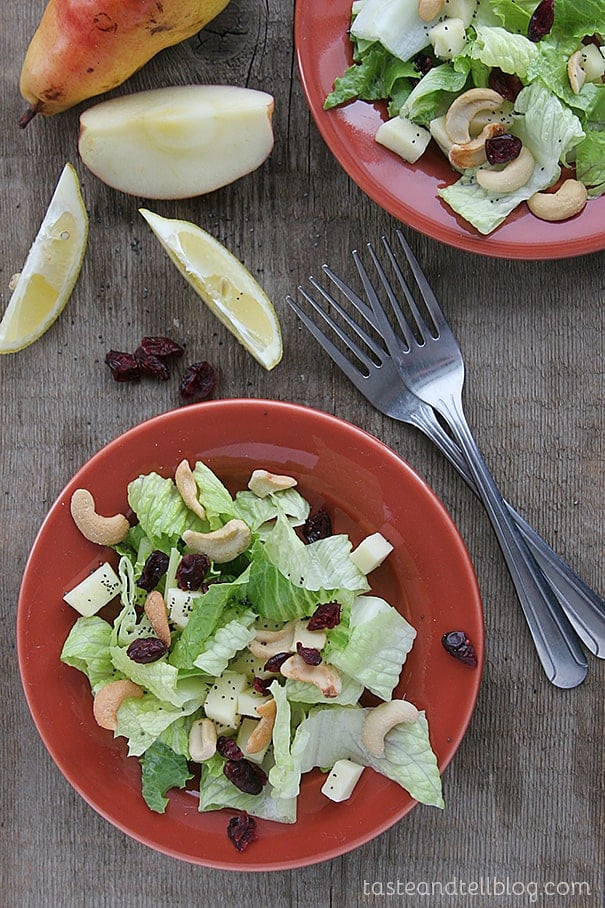 Photo Updated December 2012



I hope that everyone had a wonderful, food-filled Easter! I know that I feel like I am going to burst right now!
This year, we spent Easter dinner at my in-laws. It wasn't a "traditional" Easter meal, but a meal of steak, salad, and pie. It was delicious!!
I always say that I rarely make the same thing twice, but the salad I brought to dinner is an exception! Since discovering this recipe the end of November, this is the 4th time I have made it! I know that it is a "winter" salad, but I think that it is so good, that it can definitely be served year round!! My favorite part of it is the dressing, so if you are going to try it out, don't take a shortcut and buy bottled dressing for this. The dressing only takes about 5 minutes to put together, and it is delicious!
Many people will find that there is too much dressing, but I always just coat the salad until desired, and save the rest of the dressing for later. I think that the cashews could be substituted for any kind of nut, and the cheese could be changed for preference as well.

Winter Fruit Salad with Lemon Poppyseed Dressing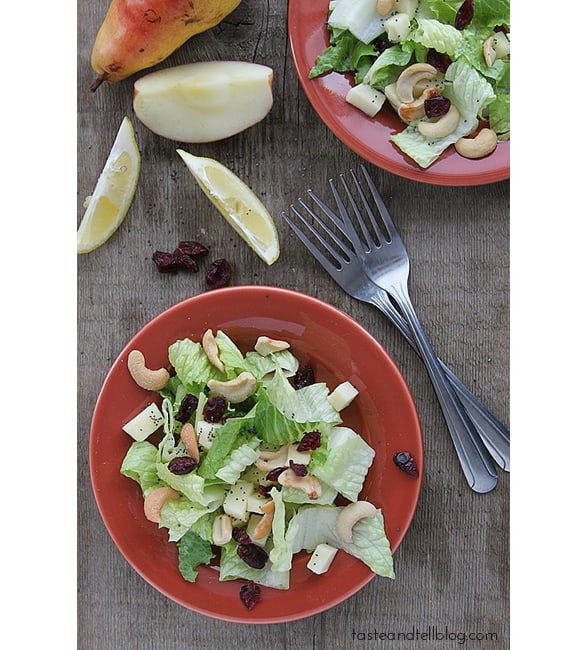 A perfect salad for the holiday seasons, with apples, pears and dried cranberries. Don't skip out on the homemade dressing - it makes the salad!
Ingredients
1/4 cup white sugar
1/2 cup lemon juice
2 teaspoons diced onion
1 teaspoon Dijon-style prepared mustard
1/2 teaspoon salt
2/3 cup vegetable oil
1 tablespoon poppy seeds
1 head romaine lettuce, torn to bite size pieces
4 oz Monterey jack cheese, cubed
1 cup cashews
1/4 cup dried cranberries
1 apple, cored and diced
1 pear, cored and diced
Instructions
In a blender or food processor, combine sugar, lemon juice, onion, mustard, and salt. Process until well blended. Add oil in a slow, steady stream until mixture is thick and smooth. Add poppy seeds and process a few seconds more to mix.
In a bowl, combine lettuce, cheese, cashews, cranberries, apple and pear. Pour dressing over just before serving. Toss to coat.
------------------
adapted from allrecipes.com
http://www.tasteandtellblog.com/winter-fruit-salad-with-lemon-poppyseed-dressing/
Recipe from www.tasteandtellblog.com