Pin It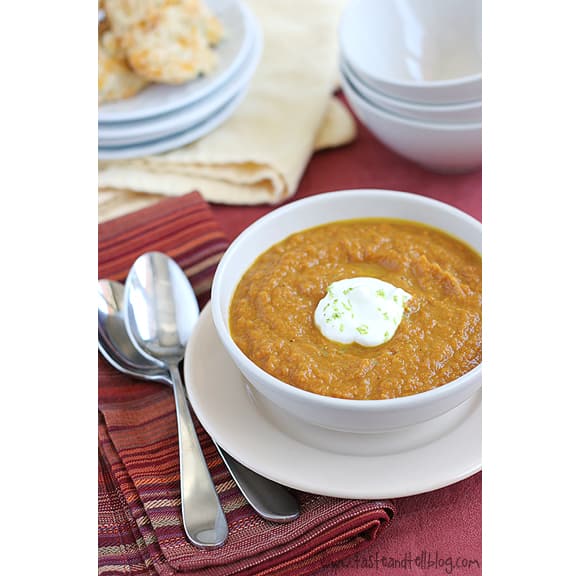 I seem to be on a bit of a soup kick lately. This is the 3rd soup recipe I've featured in the last month or so. Maybe it's the hints of fall in the air. But I just keep being drawn to soup recipes. And I'm not really sure why this recipe stood out to me. I had never even had carrot soup before I made this.
I've had another carrot soup recipe from a different cookbook bookmarked for months now.  But every time I went to put it on the menu, I wasn't feeling it.  But this soup called right out to me.  I think it was the addition of the ginger and the red pepper flakes.  It had me wondering what it would taste like.  And I'm so glad I decided to try it!!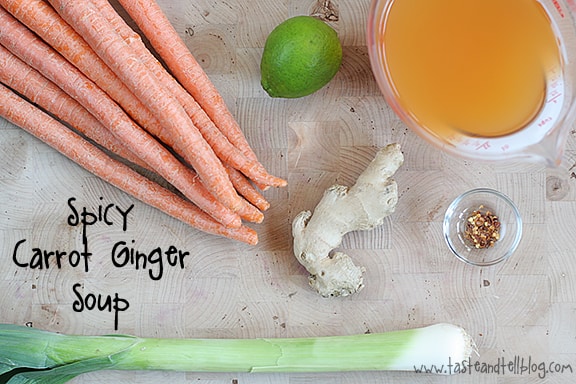 This soup comes together quite easily, although it does take some time.  And my soup didn't end up as smooth as the picture of the soup in the cookbook. I'm thinking it's because I over-roasted my carrots just a bit. This is what happens when you have a son that decides it's time to eat right when you are in the middle of making dinner!  I loved the flavor that the really roasted carrots brought to the soup, but it did make it a bit harder to puree them. And I ended up adding about a half a cup of milk (not reflected in the recipe below) because my soup was really thick – again, probably from really roasted carrots.
When we sat down to eat dinner, I ate my bowl and I liked it. I wasn't head over heels in love with it, but it was good. We had some leftover, so I packed it away. The next day at lunch, I got the leftover soup out to eat. And wow – what a difference letting it sit made!! It went from being a good soup to being a great soup! The lime flavor actually really came out the next day, and all of the flavors were just more pronounced. I gobbled down that remaining bowl of soup and wished for another bowl!! So, if you make this soup, it's a good one to be made ahead of time!
Recipe Rating: 8.25 out of 10