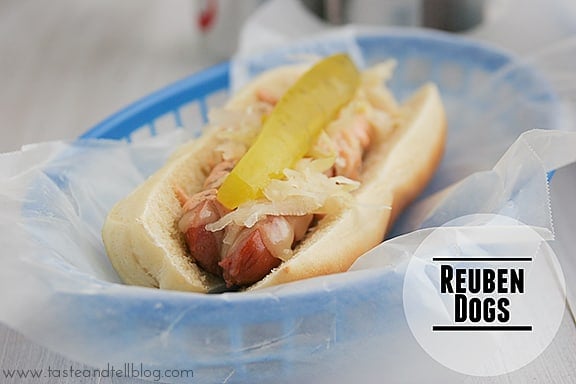 We have come to the end of hot dog week.  I have to admit – I could seriously go on for weeks with this.  I've had hot dog ideas popping into my mind left and right, and even my husband has been chirping in with other hot dog ideas.  And to be honest – this pregnancy is really kicking my butt most nights, and hot dogs are easy, so you just may very well be seeing more hot dogs in the next 3 or 4 months!!
I really did have a lot of fun with these hot dogs this week.  And today's recipe was one of the first that I made – that brought about the whole idea of doing a whole hot dog inspired week.  I was flipping through an older issue of Every Day with Rachael Ray, (one of the magazines that I keep all of my back-issues of because I use them so much!), and I came across this hot dog.  And I was brought back to the time that I really started to love the flavors of a reuben.  (This time in pizza/calzone form, and ironically, also a Rachael Ray recipe!) I have enjoyed a few reuben inspired recipes since then, and also a few reuben sandwiches when I've been out.  I have really grown to love this flavor combination.
I was so excited to try this hot dog, and was very happy with the outcome.  It was another super simple recipe that was full of flavor.  I would totally eat these again.  And again.  And I was happy to hear that several of you like your hot dogs with sauerkraut (via a Facebook poll a few days ago), so I know you will love these!!


And in case you missed any of the hot dog recipes from this week, here they all are!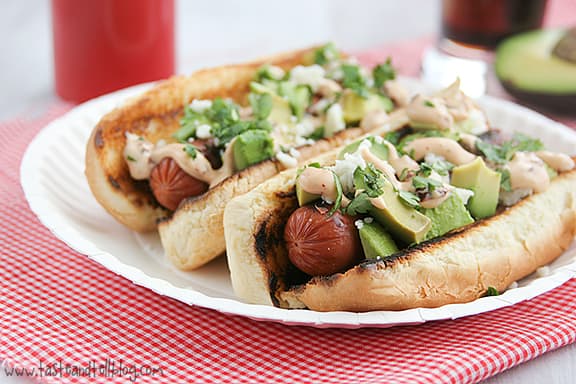 Mexican Dogs
Mac & Cheese Dogs
Hawaiian Dogs
Sloppy Dogs