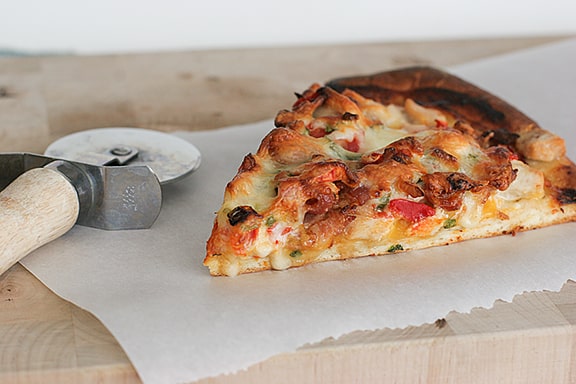 I have a secret to share as a food blogger.  I love it when the time changes.  If you are a food blogger – or if you've ever tried to take a picture of your food, you'll know that the number one rule for a good photograph is the lighting.  But in the middle of winter, when it dark at 5pm and dinner is just getting started, it makes it really hard.  But here is my secret – I've been making dinner in the afternoon.  Yep – I usually start right after lunch, just so that I can have a finished product to take pictures of before the sun would go down.  Then we would just reheat what we were eating that night.  I laughed at myself when I first started doing it, but then I realized how nice it was to not have to worry about dinner when the evening came – which usually is a hectic time around the house.
But sometimes, I would put things off – especially if it's something I thought I could take a decent "leftover" picture with.  Like this pizza.  But then sometimes, it backfires on you.  Like when you put the pizza in the oven to reheat it, and then you leave it too long, and your pizza totally looks overcooked.  Ooops…
But don't let the photo fool you.  This was a mighty delicious pizza.  Especially if you like a loaded pizza – this has all kind of goodies on it.  Just don't overcook your leftovers the next day!


Ranch Chicken Pizza
serves 8
total time:  about 45 minutes
1/3 pound bacon, chopped
2 skinless, boneless chicken breasts, cut into bite-sized pieces
1 (1 lb.) store-bought or homemade pizza dough
1/2 cup Ranch salad dressing
1 cup shredded mozzarella cheese
1 cup shredded cheddar cheese
1 cup chopped tomatoes
1/4 cup chopped green onions
Preheat the oven to 425F.  Preheat pizza stone, if using.  If not, grease a pizza pan or medium baking sheet.
Place the bacon in a large skillet over medium-high heat.  Cook until crispy.  Remove with a slotted spoon.  Add the chicken pieces and cook until no longer pink in the center.
Roll out the dough to a circle.  Bake the crust for 5-7 minutes in the preheated oven, or until it just begins to turn golden brown.  Remove from oven.
Spread the ranch dressing over the partially baked crust.  Sprinkle on the mozzarella cheese.  Add the chicken, bacon, tomatoes and onions, then top with the cheddar cheese.  Return the pizza to the oven and bake until the cheese is melted and bubbly, 10-15 minutes.
0 Flares
Tweet
Email to a friend
0 Flares
×