1.5K Flares
1.5K Flares
×
Ground beef and Spanish rice fill these hearty enchiladas.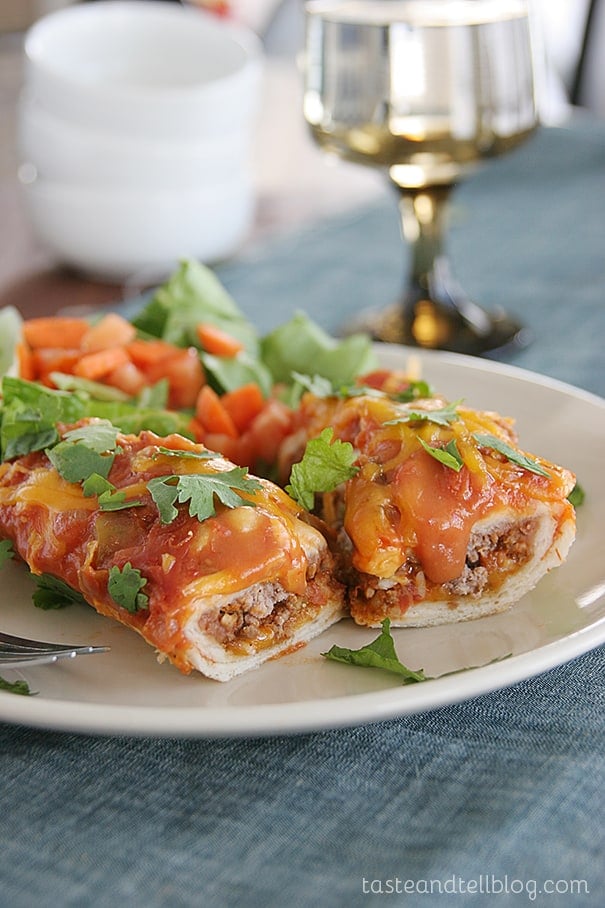 Photo Updated December 2012



I am always so beat at the end of the day that I have a hard time posting the night's dinner on the night we actually had it…..so, here's last night's pre-Cinco de Mayo dinner!!
I know this isn't real Mexican food. But I have been going through my recipe box on allrecipes.com and trying out the recipes I have saved but have never made. And even though these weren't true Mexican food, they were still quite yummy. I don't think I have ever made an enchilada with ground beef, but they sounded quite easy and I didn't have a whole lot of energy last night. The thing I love about recipes like this is that you can make everything, throw it in the oven, and while it is baking, you can clean up the kitchen. For some reason, if I have not cleaned up the kitchen by the time I eat, I have a hard time doing it. The preparation is really only about half an hour, so this would make a great week night meal.
This is a very basic recipe that I believe can be altered to individual tastes. I'm doing more for Cinco de Mayo tonight even though we aren't really celebrating, and we won't be going anywhere, but hopefully the food will be great!!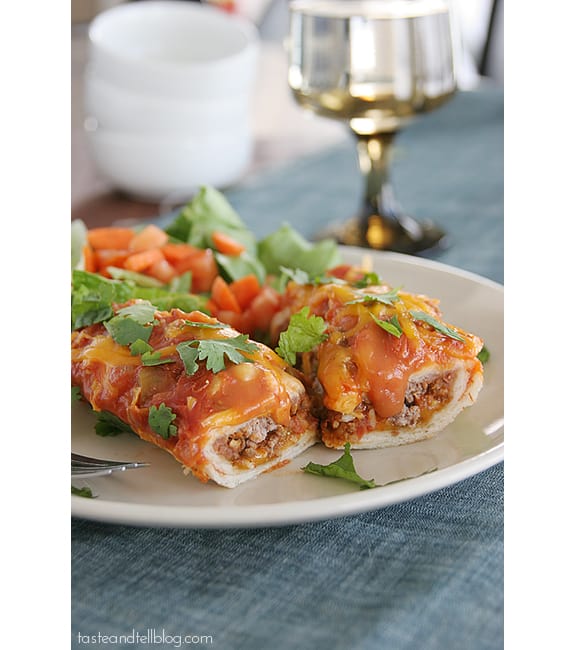 Ground beef and Spanish rice fill these hearty enchiladas.
Ingredients
1 lb ground beef
1 (1.25 oz) package taco seasoning
1 cup water
2 cups cooked Spanish rice
1 (16 oz) can refried beans
2 cups shredded cheddar cheese
10 (8 inch) flour tortillas
1 (16 oz) jar salsa
1 (10.75 oz) can cream of chicken soup
chopped cilantro
Instructions
Heat oven to 350F. Grease a 13x9-inch baking dish.
In a large skillet, brown the ground beef over medium-high heat. Drain if needed. Add the taco seasoning and the water. Bring to a boil. Reduce the heat and simmer, uncovered, for 5 minutes. Stir in the rice. Cook and stir until all the liquid is evaporated.
Spread about 2 tablespoons of the refried beans, 1/4 cup of the beef mixture and 1 tablespoon of cheese down the center of each tortilla. Roll up and place seam side down in the prepared baking dish.
Combine the salsa and the soup. Pour down the center of the enchiladas. Sprinkle with the remaining cheese. Bake for 20-25 minutes, or until heated through and the cheese is melted. Serve topped with chopped cilantro.
---------
recipe adapted from allrecipes.com (recipe on longer available online)
http://www.tasteandtellblog.com/pre-cinco-de-mayo/
Recipe from www.tasteandtellblog.com
1.5K Flares
1.5K Flares
×