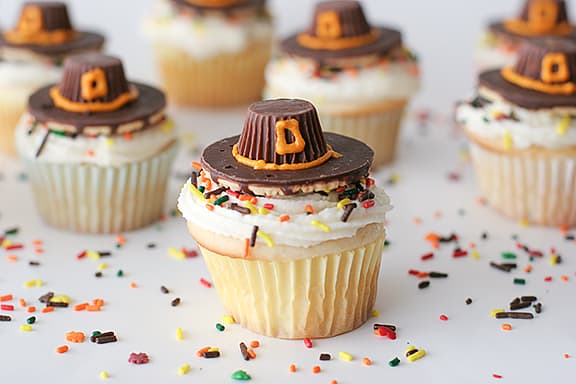 Being that this week is Thanksgiving, I thought I would get my act together and actually put together some Thanksgiving treats!!  And I totally wish I came up with this idea, because I think they are the cutest things.  But alas, I didn't come up with it.  I actually saw some cupcakes decorated like this when I went on a "back of the store" tour for a local grocery store (post on that to come!!)  When I saw them, I immediately thought – I'm totally stealing that idea!!  Then I got home and as I was blog hopping, I saw similar cupcakes at My Best Bites and Hoosier Homemade.  But just because they've been done before doesn't mean that they can't be done again!!  And Abbi's favorite part?
Eating the sprinkles!
These would be a great activity for the kids to put together on Thanksgiving.  And I'm sure everyone will have fun eating them!!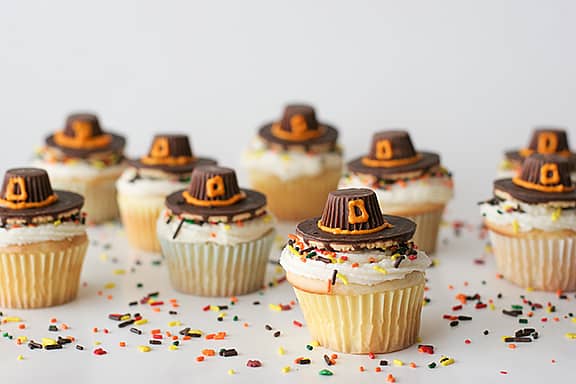 Pilgrim Hat Cupcakes
prepared white cupcakes (recipe follows or use your favorite!)
buttercream frosting (recipe follows or use your favorite!)
Thanksgiving/Fall sprinkles (optional)
Fudge Stripe Cookies
Mini Reeses Peanut Butter Cups
Put a dot of frosting on the top of the peanut butter cups.  Adhere the cup to the bottom side of the fudge cookie.
Reserving 1/2 cup of the frosting, frost each of the cupcakes with buttercream frosting.  Sprinkle with Thanksgiving sprinkles, if desired.
Using food coloring, tint the reserved frosting yellow.  Using a piping bag, pipe on the buckle and the base of the hat.  Put one cookie on each cupcake.
Easy as Can Be White Cupcakes
from Southern Living
makes 24 cupcakes
1 (18.25 oz.) package white cake mix with pudding
1 1/4 cups buttermilk
1/4 cup butter, melted
2 large eggs
2 teaspoons vanilla extract
1/2 teaspoon almond extract
Preheat oven to 325F.  Prepare 24 muffin cups with cupcake liners.
Beat all the ingredients in a mixer on low for 1 minute until combined.  Turn speed to medium and beat for 2 more minutes, or until completely combined and smooth.
Fill each cupcake liner 2/3 full with the batter.  Bake in the preheated oven for 25 minutes or until a toothpick inserted in the center comes out clean.  Cool in pans on wire rack for 10 minutes, then remove from pan and cool on wire rack until completely cool.
Buttercream Frosting
1 cup butter, softened
1 teaspoon vanilla extract
3-4 cups powdered sugar (depending on how sweet you want it)
2-3 tablespoons milk
In a stand mixer, beat the butter and vanilla.  Add in the powdered sugar, 1 cup at a time.  Add in the milk until you get the desired consistency.