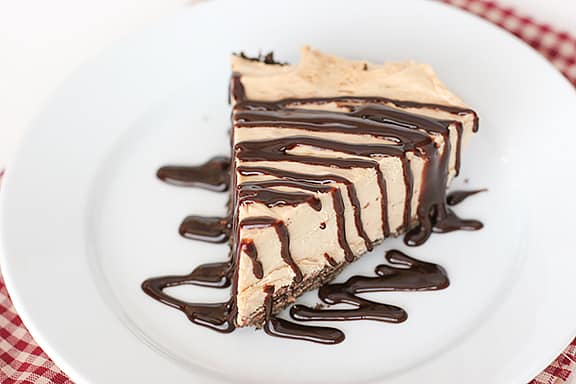 I have loved reading through all of your Thanksgiving debates.  (If you haven't entered to win the $500 visa card yet, make sure and check it out HERE.)  I was actually surprised to read how many of you debate over whether or not to cook a turkey.  It sounds like for many of you, you make it mostly out of tradition – not because you like turkey.  Me – I couldn't imagine the day after Thanksgiving without turkey sandwiches!!  Another common debate seems to be over pies.  And of course it was over pumpkin or apple, or both.  Well folks, I'd hate for you to see Thanksgiving with my family!!  I think the pies are the star of the show!!  In fact, my dad loves pie so much that when we got together for his birthday last weekend, my mom asked for a few pies.  Well, I think we ended up with 8 or 9 pies.  For 15 adults and about 14 kids.  Yeah, that's a lot of pie!!  I guess that's how much we love pie!
My pie that I brought was this beauty – a Peanut Butter Pie with Cookie Crust.  I actually didn't plan ahead very well, and I found myself looking through cookbooks the night before.  I knew I had a church thing that would take up most of the morning, then a photo session that evening before the party.  I knew I only had a few hours, so I was trying to find a recipe I could make quickly.  When I came across this recipe, I was sold!  I could make it in the morning before my church activity, then I wouldn't have to worry about it!
It actually came together very easily.  I couldn't find chocolate wafter cookies (darn Wal-Mart!) but I did find chocolate animal crackers that worked well in a pinch.  There is a layer of chocolate that goes on top of the crust, and this is the only part that gave me trouble.  The second I added the corn syrup, it completely seized up into a hard lump of chocolate.  So I tried again, and just spread the chocolate straight – without the corn syrup.  I thought I was being smart, but when I went to cut the pie that night – lets just say that that chocolate hardened up so much that this pie was almost impossible to cut into.  So I don't know the answer – I'd probably end up just leaving out that chocolate layer next time.
If you are a peanut butter lover, this is the pie for you.  It's super rich, so a small slice goes a long way, but it sure is delicious!!  You'll notice that the hot fudge sauce is missing in the photo above – my sister actually had some hot fudge left over, so we just used hers, and I took the picture at home later, so I just used some good old chocolate syrup.  It worked!!  I'm sure the hot fudge is delicious, though, so I included it in the recipe below!
Peanut Butter Pie with Cookie Crust
For the chocolate cookie crust:
30 chocolate wafer cookies (about 6 ounces)
1 tablespoon sugar
6 tablespoons unsalted butter, melted
For the peanut butter filing with chocolate bottom:
½ cup (3 ounces) semisweet chocolate chips
½ teaspoon light corn syrup
8 ounces cream cheese, at room temperature
1 cup creamy peanut butter
2 tablespoons pure vanilla extract
¾ cup firmly packed dark brown sugar
1½ cups heavy cream
For the easy hot fudge sauce:
6 ounces milk chocolate, finely chopped
6 ounces dark chocolate (64% cacao),
finely chopped
1 cup heavy cream
¼ cup light corn syrup
Chocolate cookie crust:
In a food processor, grind the cookies to a very fine powder. You should have about 1½ cups. Put the crumbs in a bowl and stir in the sugar. 
Pour the butter over the crumb mixture and mix until well combined. The mixture will feel wet. Turn the crumb mixture out into a 9-inch pie plate and press it into the bottom and up the sides. You can use the back of a large spoon to even out the crust. 
Put the crust in the refrigerator while you make the filling.
Peanut butter filling with chocolate bottom
Melt the chocolate chips in a microwave oven or in a double boiler. Add the corn syrup and stir to combine. Use a spatula to spread the chocolate in a thin layer on the bottom of the chilled pie crust. 
Put the crust back in the refrigerator while you make the peanut butter filling. Put the cream cheese, peanut butter, vanilla, and brown sugar in the bowl of an electric mixer fitted with the paddle attachment. Beat on medium speed until well combined and completely smooth. Set aside. 
In a clean bowl, use the mixer fitted with the whisk attachment to whip the cream until soft peaks form. Remove the bowl from the mixer and, with a rubber spatula, gently fold the whipped cream into the peanut butter mixture until the mixture is uniform in color. 
Pour the mixture into the prepared crust and freeze for at least 4 hours. Once the pie is frozen, you can cover it with aluminum foil and freeze for up to 3 days.
Easy hot fudge sauce
Place both chocolates in a medium heatproof bowl and set aside. 
In a small saucepan, bring the cream to a simmer over medium heat. Add the corn syrup and stir to combine. Remove from the heat and pour over the chocolates. Let the mixture sit for 2 minutes. Starting in the center of the bowl and working your way out to the edges, whisk the chocolate mixture in a circle until completely smooth. The hot fudge sauce, cooled to room temperature and covered tightly, will keep for 3 days in the refrigerator. Rewarm the sauce in a microwave oven on medium heat for 30 seconds, stir, and repeat until the sauce is warm; or reheat it in a small saucepan over low heat.
Place a frozen piece of pie on a large serving plate and spoon 3 heaping tablespoons of the warm sauce directly over the top of the pie. Eat and enjoy immediately.