Salmon is topped with an almond and breadcrumb topping in this easy and quick seafood dish.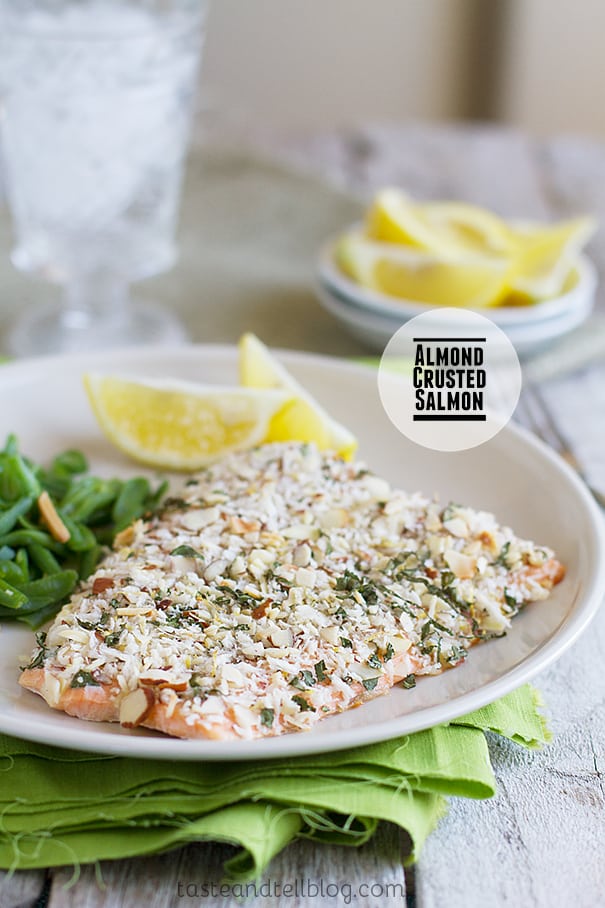 This post has been sponsored by Diamond Nuts.



I am not a dieter. Crash diets, fad diets, any kind of diet – they just don't work for me. I get cranky, I get tired, and all I can think about is what I can't have.
But I am a believer in moderation and making smart food choices. (I won't go as far as to say I always make those smart food choices, but I know that I need to make them!!) Eat a balanced diet and get in some physical activity. That is what I try to live by.
I'm pretty good about making a balance dinner for the family. We make it a goal to sit down together and eat dinner each night, and we are successful with that 95% of the time. But lunchtime is another story for me. I'll get the kids lunch and then I'm running around the house, doing laundry, picking up messes, finishing a recipe to photograph – it's always a crazy time of day for me. But that is when I notice that I start making unhealthy choices. Grabbing a handful of crackers, eating the leftovers off of my kids' plates, grabbing a cookie… I'm bad about actually getting myself something to eat and then sitting down and taking a moment to pay attention to what I'm eating.
Read the rest of this entry >>