These pumpkin cheesecake cupcakes have moist pumpkin cupcakes that have a cheesecake center baked in, and then are topped with a light brown sugar marshmallow frosting.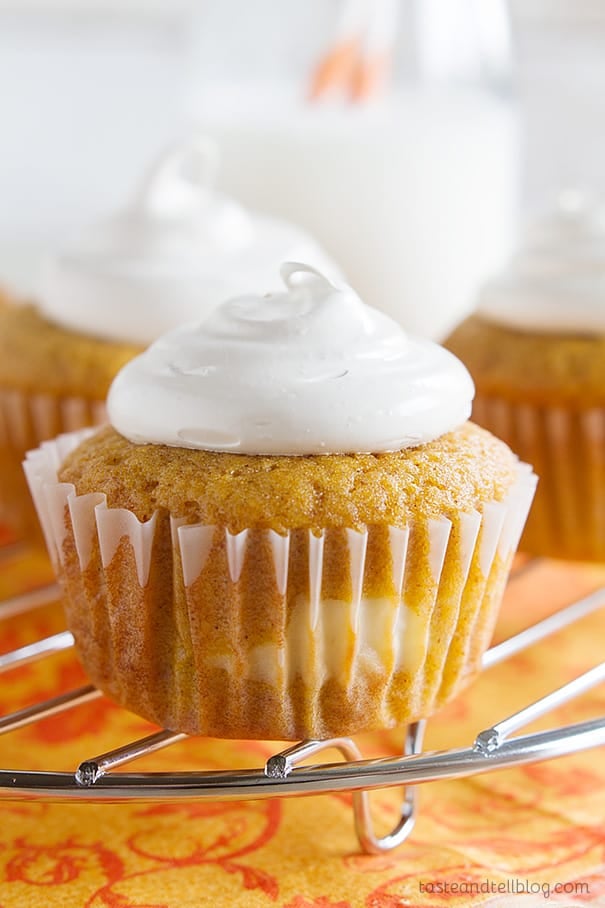 I originally posted these cupcakes on November 18, 2009, but as I often did back then, I kind of just posted the recipe and not much else. So I thought I'd bring this one back up front today to share with all of you and just start over!
We are several days into October, and I've been slacking on the pumpkin recipes. And I really wasn't planning on posting another sweet recipe today, because I have a whole week of sweet treats coming to you this week, but I couldn't resist. I have several pumpkin cupcake recipes posted here on Taste and Tell, but as I was browsing through the archives, I knew I wanted to make these again.
Because what is better than a pumpkin cupcake that is stuffed with a cheesecake mixture? Oh yeah, one that is also topped with a brown sugar marshmallow frosting!!
Read the rest of this entry >>