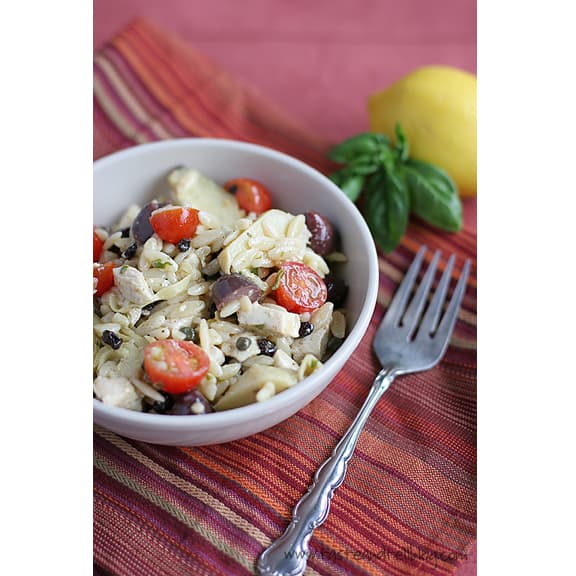 If you were to force me to choose whether I like sweet or salty better, I don' t know if I'd be able to honestly answer that. I love dessert, and it's hard for me not to end a day with a little something sweet. But I love salty as well. In fact, I have learned to salt my own food separately once dinner is done, because I would often make it too salty for my husband. (And then we could talk about the whole salty/sweet combination, but that could be a whole post on it's own. LOVE!)
I was going through a stack of papers, and I found a recipe written down that I based this recipe off of. I saw all of the salty goodness, and I just couldn't pass up trying this out! Salty olives – check! Salty marinated artichoke hearts – check! Salty capers – check! And just a touch of sweetness from the dried currants – check! Seriously, this was pure heaven to me!!
Once I had this salad made, I did think of 2 things that I think would have made this even better – if that's possible. Some crunch from some nuts and some (salty) Feta cheese. I don't know why I didn't originally think of cheese!! I added both ingredients to the recipe below, even though I didn't try them, but I'm just that confident that they would be great in this. This salad is so great because it can be served at room temperature or cold, and can be served as a side dish, or as a light dinner, like I had it. And it can easily be made vegetarian.
If you are a salty lover like I am, this salad is for you!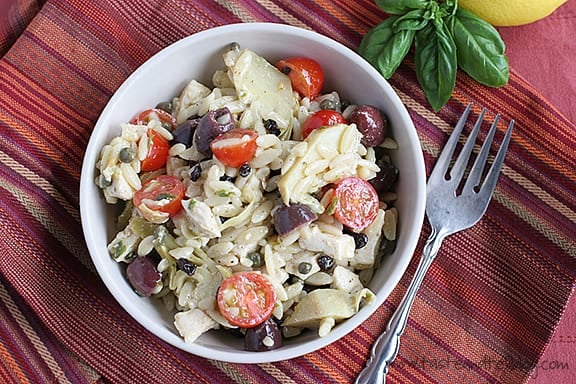 —————————–
Check out these other recipes with a Mediterranean flare!
Mediterranean Lettuce Salad from Kalyn's Kitchen
Cheesy Mediterranean Stuffed Zucchini from Handle the Heat
Grilled Mediterranean Pizza from Two Peas and Their Pod
Mediterranean Quinoa-Stuffed Roasted Artichokes from Simple Bites