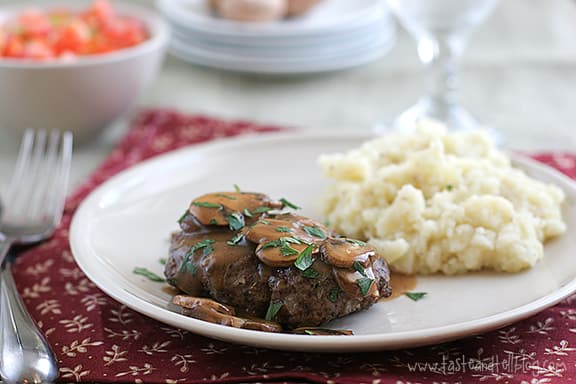 I think there are certain foods that remind people of their childhoods. Macaroni and cheese. Sunday roasts. Mom's chocolate chip cookies. And salisbury steak. Well, I actually don't ever remember my mom making salisbury steak growing up. If my memory serves me right, my first encounter with salisbury steak was from one of those microwave meals. I'm sure you all know what I'm talking about, even if you don't want to admit it!! It's actually surprising that I'd ever want salisbury steak again after tasting one of those! But now as an adult, I find myself drawn towards salisbury steak recipes.
To me, salisbury steak equals comfort. There is something about the "steak", covered in gravy, and most likely served with mashed potatoes, that I equate with one of those meals you need on a cold night. This is not pretentious food at all, but down home food. And little did I know – at least before I read it in this cookbook – salisbury steak is also found on the menu at some French bistros! Who would have known…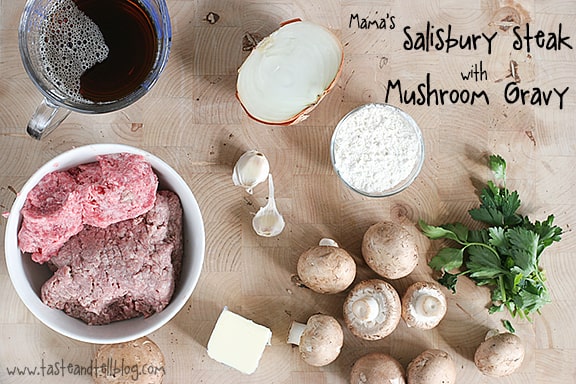 This recipe is as easy as it gets. I know that making gravy can sometimes feel intimidating, but it's really one of those things that is super simple. The only change I would make to this recipe is to double the gravy – but that's probably just because we are a gravy loving family!!
This is the "basic" recipe from the book, but I am dying to try the "brilliant" recipe – the salisbury steak stuffed with Roquefort. Um, yum!!

Recipe Rating: 8 out of 10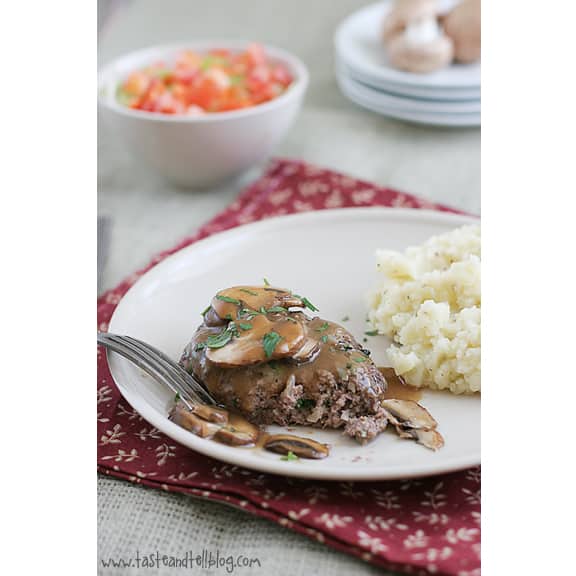 Mama's Salisbury Steak with Mushroom Gravy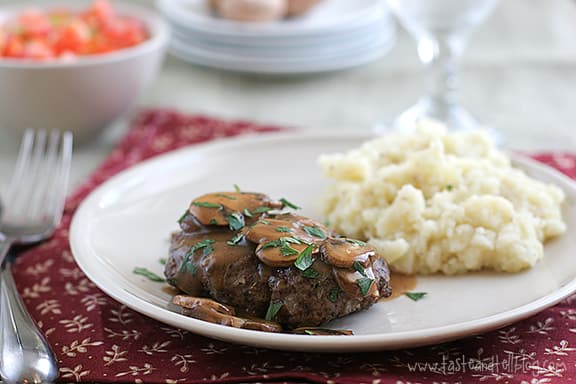 An inexpensive, filling and comforting meal that is family friendly and full of flavor.
Ingredients
1 teaspoon canola oil, plus more for the broiler pan
1/2 onion, grated
2 cloves garlic, finely chopped or grated
1 1/2 pounds ground round beef
1/2 pound ground pork
1 tablespoon chopped fresh flat leaf parsley
coarse salt and freshly ground black pepper
3 tablespoons unsalted butter
1 pound mushrooms, sliced
2 tablespoons all-purpose flour
2 cups pan drippings plus beef stock
Instructions
Position an oven rack 4 inches below the broiler. Preheat the broiler. Oil a broiler pan and set aside.
Heat the oil in a large skillet over medium heat. Cook the onion until translucent, 3-5 minutes. Add the garlic and cook for 1 minute more. Remove from the heat and allow the mixture to cool slightly.
In a large bowl, combine the ground beef, ground pork, parsley and cooked onion mixture. Season with salt and pepper. Shape the mixture into 6 oval patties and place on the prepared broiler pan.
Broil until the meat is no longer pink in the center and a thermometer inserted in the center reads 160F, about 6 minutes per side. Remove to a serving platter and tent with foil to keep warm.
In a large skillet, melt 1 tablespoon of the butter. Add the mushrooms and cook until tender, about 5 minutes. Season with salt and pepper, then remove from the skillet.
In the same skillet, melt the remaining 2 tablespoons of butter. Whisk in the flour and let cook for 1 minute. Pour the pan drippings into a 2-cup measure or fat separator. Remove the fat, then add enough beef stock to make 2 cups. Whisk the stock mixture into the butter/flour mixture and cook until the sauce thickens, about 5 minutes. Season with salt and pepper. Add the mushrooms back in, along with any accumulated juices. Taste and season if needed, and serve immediately with the salisbury steaks.
----------------------------------------------
http://www.tasteandtellblog.com/mamas-salisbury-steak-with-mushroom-gravy/
Recipe from www.tasteandtellblog.com
——————
Check out these other Salisbury Steak recipes:
Salisbury Steak with Caramelized Onion Gravy from One Perfect Bite
French Onion Salisbury Steak from Nutmeg Nanny
Salisbury Steak from Thibeault's Table
0 Flares
Tweet
Email to a friend
0 Flares
×