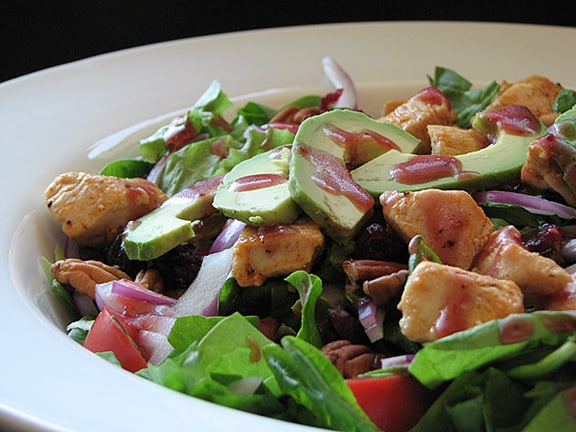 I guess it's time for something a little healthier….I have so many recipes that I need to blog about. The desserts are more exciting to me, but I do want to share all of my cooking adventures.
I have been saving and printing recipes for years now. In fact, a few months back, I decided to get my recipes a little more organized, so I started with all of the recipes that were printed off of websites or emails that I have collected over the years. They are now all organized in binders – 3 of them that are 2 to 3 inches thick each. Ummm, I think I may get carried away when I collect recipes – even if I were to make one of those recipes a day for the rest of my life, I don't know if I would get through all of them! (Add that to the cookbooks, the 438 recipes I have bookmarked on my del.icio.us page, and the other grocery bag full of recipes cut out of magazines and from the back of packages…you get my point!)
I was craving a salad one day, so I randomly picked one of my recipes from the "salad" section of my printed recipes. This is the one I chose. I rarely think you can go wrong with a salad. Filled with tons of veggies, and I usually like to add some sort of protein, I can usually eat a large bowl and not feel guilty about it. This was a great salad, although I would make a couple of changes the next time around.
The salad calls for baby spinach, and I did a mixture of baby spinach and baby greens. I also substituted pecans for walnuts. I almost forgot the blue cheese, but remembered right as I started eating and added it to the salad. (I had already taken the picture, so no cheese in the picture!) I also added some chicken. I had an avocado, but I wished afterwards that I wouldn't have used it, mainly because it wasn't quite ripe enough yet, and didn't have much flavor to it. The dressing is a simple raspberry vinaigrette. It calls for walnut oil, and since I didn't have any walnut oil, I substituted something else, but I can't remember what it was – probably olive oil. The dressing wasn't any spectacular, but it complimented the salad nicely.
A successful dinner – I cleared my plate!!
Harvest Salad
from Allrecipes
INGREDIENTS
1/2 cup chopped walnuts

1 bunch spinach, rinsed and torn into bite-size pieces

1/2 cup dried cranberries

1/2 cup crumbled blue cheese

2 tomatoes, chopped

1 avocado – peeled, pitted and diced

1/2 red onion, thinly sliced

 

2 tablespoons red raspberry jam (with seeds)

2 tablespoons red wine vinegar

1/3 cup walnut oil

freshly ground black pepper to taste

salt to taste
DIRECTIONS
Preheat oven to 375 degrees F (190 degrees C). Arrange walnuts in a single layer on a baking sheet. Toast in oven for 5 minutes, or until nuts begin to brown.

In a large bowl, toss together the spinach, walnuts, cranberries, blue cheese, tomatoes, avocado, and red onion.

In a small bowl, whisk together jam, vinegar, walnut oil, pepper, and salt. Pour over the salad just before serving, and toss to coat.
0 Flares
Tweet
Email to a friend
0 Flares
×