Post and Photo Updated October 2012

I decided to make something bit lighter for dinner because we have been eating such heavy dishes lately. I usually start searching the internet when I am looking for something to make, but I decided this time to try one of the recipes that I have bookmarked from other food blogs. It was a tough decision, but I decided on the Ham and Asparagus Quiche recipe from Elise at Simply Recipes. I love her blog. I loved the pictures for this quiche – how each of the steps are lined out so nicely. I actually had everything on hand (except for a few substitutions) so it saved me a trip to the grocery store as well. I would highly recommend it!! The changes I made – I had a pre-made crust at home, so I totally cheated there. Not as good as homemade, but fast and easy. I also used Colby jack cheese instead, because that was what I had at home.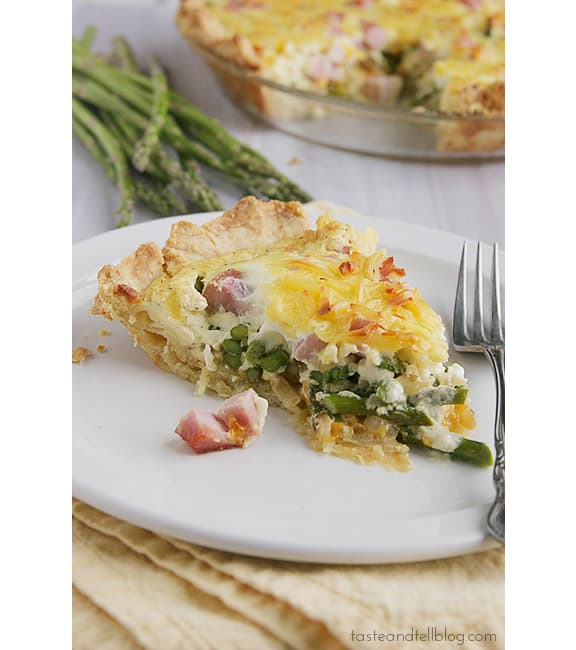 A quiche filled with lots of asparagus and ham - perfect for breakfast, brunch, or even dinner!
Ingredients
pie dough for 1 (9-inch) crust
2 tablespoons olive oil
1/2 medium onion, diced
10 oz asparagus spears, cut on the diagonal to 1-inch pieces
1/2 lb ham, cut into cubes
6 oz Gruyere cheese (or other cheese that melts easily)
1/2 cup milk
1/2 cup heavy cream
3 eggs
pepper
Instructions
Preheat oven to 350F.
Lightly flour a work surface and roll out the pie dough. Fit into a 9-inch pie dish. Line the pastry with foil or parchment paper and fill with pie weights or dry beans. Bake for 15 minutes. Remove from the oven and remove the foil and weights. Prick the bottom and sides of the pie and return to the oven for an additional 10 minutes. Transfer to a cooling rack to cool while you make the filling.
Increase the oven temperature to 375F.
In a medium saute pan over medium heat, heat the olive oil. Add the onion and cook just until clear, a couple of minutes. Add the asparagus and cook until browned but still crisp, 8 to 10 minutes.
Sprinkle half of the cheese on the bottom of the crust. Top with the asparagus mixture and the ham. In a bowl, whisk together the milk, cream and eggs. Season with pepper. Pour over the ham. Top with the remaining cheese.
Bake in the preheated oven until it is just set in the center, about 30 minutes. Cool for 10 minutes before serving.
-----------------------
Adapted from Simply Recipes
http://www.tasteandtellblog.com/ham-and-asparagus-quiche/
Recipe from www.tasteandtellblog.com