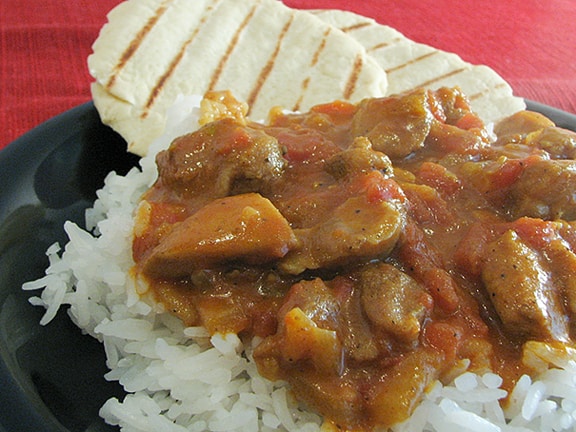 I am a little off this week. Usually, I cook when both my husband and I are home, and use the nights that he works to eat leftovers or my "I'm too lazy to cook" meals. But this week, we were too busy to do any cooking while we were both home, and last night, my husband was working and I cooked for myself! The main reason I did this was because I have had a very strong craving for curry lately, and my husband does not like curry so I knew that I needed to make it on a night when he was not home. A co-worker told me of a curry recipe him and his wife made that was to die for. I have been wanting to make that recipe, but it calls for fresh bamboo shoots, and I will need to make a trip up to a market in Salt Lake that sells them. (I was actually near it earlier this week, but forgot my wallet at home!!) So I decided to try a different recipe and hold off on that recipe for another time. This was my first time making curry. I have only had it a few times in my life, but have always really liked it. It was a very healthy recipe as well. I decided to take the advice of others and use boneless, skinless chicken thighs instead of breasts. I had never even thought of doing this until I started reading food blogs. I learned that you only marginally increase the calories and fat but the flavor would be a lot better. According to calorieking.com, a 2.5 oz. boneless, skinless chicken breast has 78 calories and 1 gram of fat. A 2.4 oz boneless, skinless chicken thigh has 82 calories and 2.7 grams of fat. I think that the added calories and fat are worth the extra flavor!! This recipe was a perfect first-time curry recipe. The only thing I wish it had more of was heat. I didn't find it spicy in the least bit. Maybe if I use curry paste instead of curry powder?? I actually went out and specifically bought Jasmine rice as well. The combination was perfect. One word of warning though – if you live in an apartment or condo – this might not be the recipe for you (if you have neighbors that aren't very nice I guess.) The smell is VERY strong. I knew the house smelled of curry, but when my husband got home at 2am, he said the smell nearly knocked him over when he walked in the door. I thought the smell had subsided by this morning, but I opened the laundry closet (that is right by the kitchen) this morning, and I think a lot of the smell got locked in there, because the smell hit me as soon as I opened the doors. But – I have been looking forward to lunch today to eat leftovers!!
The recipe serves 6 – I was going to cut it in half because it calls for 2 lbs of chicken and I only had 1 lb, but I didn't want to waste half a can of tomatoes, half a can of coconut milk, and half a can of tomato sauce. So I made the full recipe, but only used half the chicken. I really don't think that 2 lbs of chicken is necessary. I thought the 1 lb worked well. The only other thing I changed was cutting down the sugar – the original recipe calls for 3 Tablespoons, and I cut that in half.
I decided to try some naan to serve with the curry. I think that I have eaten naan once before, but it was so long ago that I really don't have much to compare mine to. I did cut this recipe in half. I used a trick that Joe left on one of my recipes a little while back. He said that if you are halving a recipe that calls for only one egg, just lightly beat the egg and measure out half. I'm really glad I did this, because I'm sure the rest would have gone bad – way too many leftovers for just me!! My pieces of naan ended up being only about 3 inches in diameter, and all pictures that I have seen of it seem like it is made into bigger pieces, but it did taste good with the curry. The recipe I used said to grill the pieces, and I had intentions to do this outside on the grill, but a windstorm came through as I was cooking and I knew that if I went outside, I would be eating dirt covered bread. So I just cooked it inside on a stovetop grill. I wish I would have baked half of them to see how it would have differed….maybe next time. The bad thing about this bread is that I stood over the cooking curry, dipping the bread into it – losing track of how much I had eaten!!
I wasn't able to use as much flour as the recipe called for – I also didn't add in garlic as the recipe said to. I was planning on it, but my dough was so stiff that I was afraid I would have a hard time getting it evenly dispersed. I'm kind of glad I didn't – I was running late this morning and grabbed 2 pieces on my way out the door for breakfast – a great breakfast on the run!!
Overall, a great dinner. My hubby even let me put some of the leftovers in his lunch for today – maybe he will surprise himself and actually like it!!
Curried Coconut Chicken
adapted from allrecipes.com

INGREDIENTS
1 to 2 pounds boneless skinless chicken breasts or thighs, cut into 1/2-inch chunks

1 teaspoon salt and pepper, or to taste

1 1/2 tablespoons vegetable oil (I used olive oil)

2 tablespoons curry powder

1/2 onion, thinly sliced (I diced mine)


2 cloves garlic, crushed

1 (14 ounce) can coconut milk

1 (14.5 ounce) can stewed, diced tomatoes

1 (8 ounce) can tomato sauce

1.5 tablespoons sugar
DIRECTIONS
Season chicken pieces with salt and pepper.

Heat oil and curry powder in a large skillet over medium-high heat for two minutes. Stir in onions and garlic, and cook 1 minute more. Add chicken, tossing lightly to coat with curry oil. Reduce heat to medium, and cook for 7 to 10 minutes, or until chicken is no longer pink in center and juices run clear.
Naan
from allrecipes.com
INGREDIENTS
1 (.25 ounce) package active dry yeast

1 cup warm water

1/4 cup white sugar

3 tablespoons milk

1 egg, beaten

2 teaspoons salt

4 1/2 cups bread flour

2 teaspoons minced garlic (optional)

1/4 cup butter, melted
DIRECTIONS
In a large bowl, dissolve yeast in warm water. Let stand about 10 minutes, until frothy. Stir in sugar, milk, egg, salt, and enough flour to make a soft dough. Knead for 6 to 8 minutes on a lightly floured surface, or until smooth. Place dough in a well oiled bowl, cover with a damp cloth, and set aside to rise. Let it rise 1 hour, until the dough has doubled in volume.

Punch down dough, and knead in garlic. Pinch off small handfuls of dough about the size of a golf ball. Roll into balls, and place on a tray. Cover with a towel, and allow to rise until doubled in size, about 30 minutes.

During the second rising, preheat grill to high heat.

At grill side, roll one ball of dough out into a thin circle. Lightly oil grill. Place dough on grill, and cook for 2 to 3 minutes, or until puffy and lightly browned. Brush uncooked side with butter, and turn over. Brush cooked side with butter, and cook until browned, another 2 to 4 minutes. Remove from grill, and continue the process until all the naan has been prepared.
0 Flares
Tweet
Email to a friend
0 Flares
×