I have been going through my archives, reformatting the recipes, and reformatting some posts from before I switched to WordPress. I'm only doing 1-2 posts every day, so at this rate, it's going to take me a few years, because right now, I have over 1300 posts. But it has been so much fun to go back and re-read posts from the past and remember the recipes. It's amazing how much I can remember from each post that I go back to. I have yet to come across a post of a recipe that I don't remember. I guess that's the good thing about having this sort of "online journal".
I have started making a list of recipes that I'd like to go back and re-make. As much as I love trying new recipes, it's kind of a shame that I have made so many delicious recipes over the years, only for them never to see the light of day again. I've already re-made a few, like these Egg Salad BLTs and this Prosciutto Stuffed Chicken.  And there are so many that I want to make again, like this Lemon Curd Cheesecake, this Sweet and Sour Pork Rice Bowl, and this Corn Sausage Chowder.   It's so sad that I've never made these again!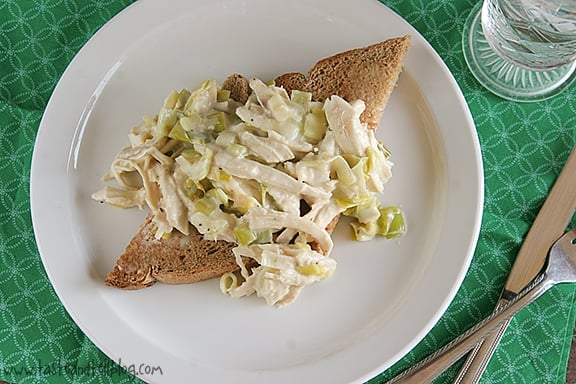 This recipe is one that I'm going to put on my list to make again asap.  This, to me, is comfort food without getting too heavy.  A comfort meal dish that you could easily eat when it's warm outside and not feel like you are going to die.
I think my favorite part of this recipe is that you poach the chicken, and then you use the poaching broth as your liquid to make the gravy.  It was so fresh tasting, and so full of flavor – especially for coming together so quickly.  And the fact that this is served over buttered toast, well – that is just my idea of perfect.
Do you remake recipes?  Or do you get so caught up in trying new recipes that you rarely make the same thing twice?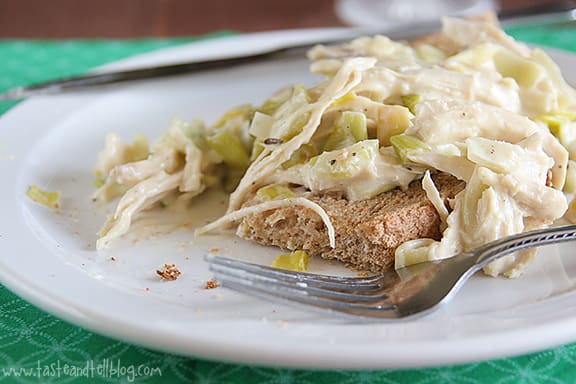 How about some more creamy chicken recipes?
Creamy Chicken and Rice Soup from Real Mom Kitchen
Creamy Miso Chicken Pasta from Steamy Kitchen
Creamy Butter Chicken from Bits of Taste
Chicken a la King from Taste and Tell
Creamy Cajun Chicken and Mushroom Pasta from The Review Lady