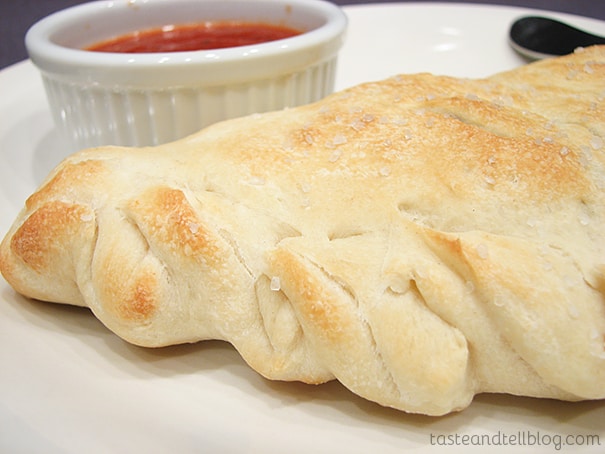 My mom called me this morning, and during our conversation, she asked me if my husband and I ever go out to eat. I told her that we don't go to restaurants very often, and when we do, I am usually disappointed because I can usually make the same thing better at home. Not to make it sound like I am a better cook than most restaurants out here, but it just seems like the quality has been lacking the last times that we have been out. There is a restaurant in Park City called the Main Street Pizza & Noodle that we really enjoy whenever we are up in Park City. And they make a delicious calzone. But seeing that it is tourist season in Park City, and especially since it's almost time for the Sundance Film Festival, we will be steering clear of Park City for the next few months. (Neither of us are fans of the crowds, or the fact that the prices go up during the tourist/ski season!) So what do we do instead? Make our own calzones!!
I'm not a stranger to calzones. I have a recipe that I have made multiple times, and it's pretty rare for me to make the same recipe multiple times. So what persuaded me to try this recipe? Because it's America's Test Kitchen!!
I had an easy time choosing the first recipe from this month's Cookbook of the Month – The New Best Recipe. I was going through the book after I received it, and once I saw that there was a chapter on pizza, calzones, and focaccia, I immediately went to that chapter.
In the heading for calzones, it says that what they were looking for when creating the perfect calzone was "a crisp crust that had plenty of chew, with a healthy proportion of rich, creamy, flavorful filling." I love it when someone else does the research and testing for me, because these calzones came out perfectly the first time!! I would say that they are better than my tried and true recipe, and my husband claimed that this was the best calzone dough that he had ever had.
I chose to make the Ricotta Calzones with the addition of sausage. In the book, there is an option for Ricotta Calzones with Sausage and Broccoli Rabe, but I didn't have any of the broccoli, so I left that out. I do wish that I would have replaced it with another vegetable, though. My husband and I thought that mushrooms would have been a perfect addition to these.
One thing I especially loved about this recipe is that it is easily halved. The original recipe makes 6 calzones, but it was easy to cut down to make only 3. One suggestion I have if you are a recipe-half-er like me is to buy your yeast in the small jars instead of the packages. It's a lot easier to measure the yeast out of the jar instead of opening a package, having to measure it, and then store the rest of the little package. The recipe listed below is the full recipe – not the halved recipe.
This recipe is quite long, but in reality, it is quite easy to put together, so don't let the length deter you.
Ricotta Calzones with Sausage
slightly adapted from The New Best Recipe
DOUGH
4 cups (22 ounces) bread flour
2 1/4 teaspoons instant yeast
1 1/2 teaspoons table salt
2 tablespoons extra-virgin olive oil
1 1/2 cups plus 1 tablespoon warm water
RICOTTA FILLING
1 15-ounce container whole-milk ricotta cheese
8 ounces mozzarella cheese, shredded
1 1/2 ounces freshly grated Parmesan cheese
1 large egg yolk
1 tablespoon chopped fresh oregano leaves
1/4 teaspoon table salt
1/2 teaspoon ground black pepper
8 ounces hot or sweet sausage
1 tablespoon minced garlic
1/4 teaspoon red pepper flakes
Extra-virgin olive oil for brushing on tops
Kosher salt or coarse sea salt for sprinkling on tops
FOR THE DOUGH: In the bowl of a standing mixer, whisk the flour, yeast, and salt to combine. Attach the bowl, and with mixer running on medium-low speed with the dough hook, add the olive oil, then gradually add the water. Continue to mix until the mixture comes together and a soft, elastic dough is formed – about 10 minutes. Lightly spray a large bowl with cooking spray. Place the dough in the bowl and cover. Let rise in a warm spot until doubled – 1 1/2 to 2 hours.
FOR THE FILLING: In a medium bowl, stir together the cheeses, egg yolk, oregano, salt, and black pepper. Cover and refrigerate until needed.
Remove the casings from the sausage. Cook the sausage in a skillet, breaking it up into 1/2 inch pieces, until it is cooked through. Stir in garlic and red pepper flakes until fragrant, about 10 seconds and remove from heat. Set aside to cool.
TO ASSEMBLE AND BAKE: Adjust an oven rack to the lowest position and set a pizza stone on the rack. Heat the oven to 500 degrees for AT LEAST 30 minutes. Divide the dough in half, and then divide each half into thirds, giving you 6 pieces of dough. Gently shape each piece into a ball and set on a piece of parchment paper that has been sprayed with nonstick spray. Cover with plastic wrap and let rest for at least 15 minutes, but no more than 30 minutes.
Cut 8 9-inch squares of parchment paper. Roll each piece of dough into a 9-inch circle, set it on a piece of parchment, stacking to form 2 stacks of 3 dough rounds, topping each stack with an additional piece of parchment paper to cover.
Remove the top parchment from one stack and place the rounds with parchment beneath on the work surface. If the rounds have shrunk, gently roll them out again to 9-inch circles. Form the calzones by putting 1/2 cup of the filling on half of the circle, and top with 1/6 of the sausage. Fold the top half of the dough over, leaving a 1/2 inch border uncovered. Lightly press the dough to seal it. Beginning at one end, place your index finger diagonally across the edge and gently pull the bottom layer of the dough over the tip of your finger. Repeat until the calzone is sealed.
With a very sharp paring knife or razor blade, cut 5 slits, about 1 1/2 inches long diagonally across the top of each calzone. Make sure not to cut completely through the calzone, but to just cut through the top layer.
Brush the top of each calzone with olive oil and sprinkle with coarse salt. Trim the excess parchment paper and slide the calzone and parchment paper onto a pizza peel, then slide them onto the hot pizza stone. Bake until golden brown – about 11 minutes. Remove to a wire rack to cool for 5 minutes before serving. While the first batch is baking, prepare the second batch.
OTHER CALZONE RECIPES ON TASTE AND TELL
"Real" Italian Calzones