Coconut = Love
Coconut soaked cake, topped with lemon curd, then whipped topping and coconut = how could you not love??




This was the dessert that I brought to my family Easter dinner. When I volunteered to bring a coconut dessert, a coconut poke cake kept popping into my head. But I wanted to take it up a notch, and since I've been obsessed with lemon curd lately, I thought that a layer of lemon curd would be the perfect addition. And I was right!!
If you have never had a poke cake before, you are in for a treat. Normally not a fan of soggy cake, it's surprising that I love poke cakes so much. And this one is really moist. So moist, in fact, that it was almost difficult to keep this piece intact to take a picture of it. But I enjoyed every. single. bite.



Coconut and Lemon Poke Cake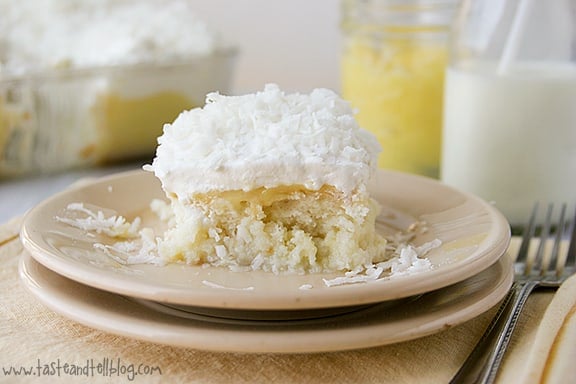 Cake soaked in a coconut milk mixture, then topped with lemon curd, whipped topping and coconut.
Ingredients
1 (16.25-oz) white cake mix
1 (14-oz) can sweetened condensed milk
1 (15-oz) cream of coconut (usually found with the drink mixers)
2 cups lemon curd
1 (16-oz) container frozen whipped topping, thawed (such as Cool Whip)
2 cups sweetened coconut
Instructions
Prepare the cake according to package directions. While still hot, poke holes through the top of the cake with a skewer.
In a bowl, mix together the sweetened condensed milk and cream of coconut. Pour over the warm cake.
When the cake has cooled, spread the lemon curd over the top of the cake. If not serving right away, refrigerate. When ready to serve, top with the Cool Whip and then sprinkle with coconut.
http://www.tasteandtellblog.com/coconut-and-lemon-poke-cake/
Recipe from www.tasteandtellblog.com
Love lemon and coconut? Check out these blogger recipes:
Lemon Cookie Coconut Truffles from Mississippi Kitchen
Impossible Lemon and Coconut Pies from Cook Republic
Lemon Coconut Bread from Orange Blossom Water
Lemon Coconut Crackle Cookies from Beyond Kimchee
Lemon, Lime and Coconut Bars from Technicolor Kitchen