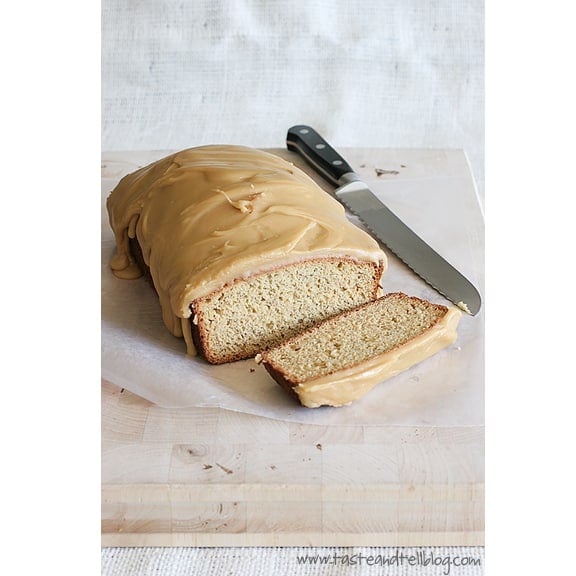 Remember back when I talked about those banana cookies? I said that sometimes I want to switch it up instead of making banana bread every time the bananas start to go brown. Well, this was another time that I happened to find some overripe bananas in my kitchen. (Is it just me or do bananas just go brown way too fast??) And honestly, I don't know where this idea came from, but the idea of caramel banana bread popped into my mind.
I couldn't get into the kitchen fast enough to make this bread that I was picturing in my head. I started with my go-to banana bread recipe, but substituted brown sugar for the white. Then, after the bread was baked and cooled, I coated it with a thick layer of caramel glaze. I won't even admit to you how much of this bread I ate. No wonder I'm struggling to lose the last few pounds of baby weight!!
Just a few notes about this recipe. Do not over bake your banana bread. There are very few things that are worse to me than dry banana bread. Also, this glaze stiffens up fast, so you'll want to pour and cover the loaf of bread pretty quickly. And it will break off a bit when you cut slices, but I didn't mind. That just meant I could snack on the little pieces!!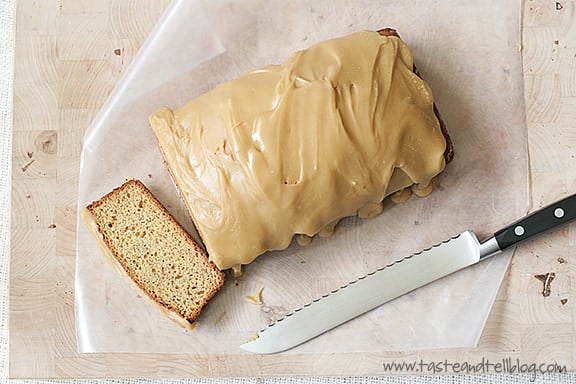 ———————————
Want more banana bread? Check out these other fabulous recipes!
Coconut Banana Bread with Lime Glaze from Our Best Bites
Chocolate Chip Banana Bread from Tidy Mom
Strawberry Banana Streusel Bread from All Day I Dream About Food